Confession- this is my first ever experience with a cauliflower pizza. I'm of the mindset that if someone wants pizza, they should just eat the pizza versus creating some ultra healthier alternative that may or may not satisfy their pizza craving. So if you're really jonesing for pizza, just go eat some pizza. If you're just wanting to try something new that is pizza-ish and a fun way to get some extra veggies in your day, then this cauliflower pizza is a real winner!
If you're a thin crust pizza fan you're probably more likely to enjoy this version. I was really impressed with the cauliflower's ability to hold toppings and crisp up nicely! I used a Trader's Joe crust, but you can grab whatever one is your fav!
​The flavors and textures work really well and even Mr. KISS said he'd eat this regularly (but agreed with me on it not being a permanent substitution for pizza).
KISS Tip #1: Make it your own! Try substitutions such as caramelized onions and arugula instead of spinach. Swap out a different chicken sausage or even bacon!

KISS tip #2: Serve with wine 🙂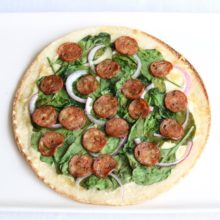 Print Recipe
KISS Sausage and Spinach Cauliflower Pizza
Ingredients
Cauliflower pizza crust

(I like Trader Joe's)

1 1/4

cup

mozzarella cheese

2

cups

spinach

1/3

cup

onion, thinly slice

1

link

of fully-cooked chicken sausage

(I like Aidells Smoked Chicken, Italian Style)

1 1/2

Tbsp

olive oil
Instructions
Bake cauliflower pizza crust per package instructions. 

Thinly slice the Italian sausage (about 1/8th of an inch) and red onion. 

Once the pizza crust is baked, remove from oven and start assembling the pizza. 

Sprinkle mozzarella cheese over the crust and top with spinach, red onion, and Italian sausage. 

Drizzle olive oil over the top of the pizza. 

Place pizza in an oven heated to 450° and cook for 7-8 minutes. Enjoy!