---
By posting this recipe I am entering a recipe contest sponsored by Kikkoman and am eligible to win prizes associated with the contest. I was not compensated for my time.
---
If you haven't hopped on board the "Savory Oatmeal Wagon", now is your time. Not only is savory oatmeal a great way to get veggies in at breakfast, but it can be packed with protein, fiber and is just downright delicious! This particular recipe is bursting with savory flavor and a cinch to whip together!
The word savory immediately makes me think of soy sauce. Soy sauce is rich in umami, a savory taste that helps round out the overall flavor of a dish. Although soy sauce is often associated with being high in sodium, culinary research actually indicates it's an ingredient that can actually help reduce sodium in recipes!
Did you know that by using 1/2 teaspoon of Kikkoman Soy Sauce in place of 1/2 teaspoon of table salt, the sodium content of a recipe is cut by 1000 mg?!
KISS Tip: Save time by prepping some extra veggies at the beginning of the week then all you have to do is heat up some oats and fry an egg!
KISS Tip: Fry your eggs in the same pan you sauteed veggies in for an extra savory experience!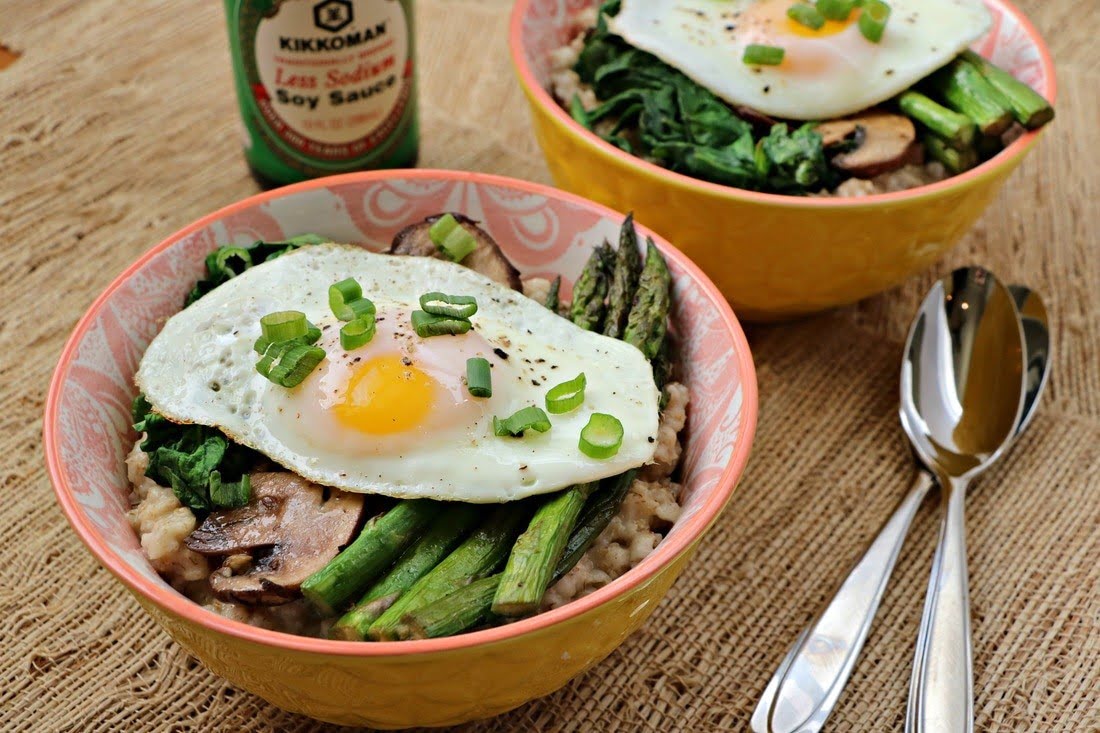 Print Recipe
Savory Veggie Oatmeal Bowl
Ingredients
2

cups

rolled oats (gluten-free or regular)

4

cups

water

1

Tbsp

avocado oil

2

Tbsp

butter or vegan butter, if desired

1 1/2

Tbsp

Kikkoman Traditionally Brewed Less Sodium Soy Sauce

1/2

tsp

cracked black pepper

1

Tbsp

chopped fresh sage

1

cup

sliced cremini mushrooms

12

asparagus spears, ends trimmed

4

cups

fresh baby spinach

4

large

eggs

1/4

cup

sliced green onions, if desired
Instructions
Bring water to a boil in a pot. Pour in oatmeal and reduce heat to a simmer. Cook for 10-20 minutes, until oats have reached desired texture/consistency.

While oats are cooking, pour oil, soy sauce and black pepper into a skillet over medium heat. Add asparagus, mushrooms and sauté for 3 to 5 minutes. Add spinach and sage and sauté another 2-3 minutes until spinach is wilted.

Remove veggies from skillet and cook 4 eggs either sunny side up, over-easy or over medium (A little runny yolk makes this savory oatmeal even more divine!).

When oatmeal finishes cooking, remove from heat and add in butter, if desired. Divide cooked oats evenly into 4 bowls and top with sautéed veggies. Place one fried egg on top of veggies and sprinkle with sliced green onions, if desired.