---
I'm excited to partner with Monterey Mushrooms, the largest fresh mushroom grower in North America, for this post. As always, all opinions are my own, and I only partner with brands and products I genuinely love using in my own kitchen.
---
Happy November, y'all! For anyone that's new around here, KISS stands for "Keep it simple, Shannon"- something my dad always used to tell me. Because I'm committed to providing simple, nutritious and delicious recipes, I'm always trying to think outside of the box for dinner. *Insert, nachos.* Although nachos are a fantastic party or tailgating food, they're also a pretty legit dinner option. If you're questioning that (and who would?!), just glance at these photos to see the heartiness and healthfulness of nachos!
Whether you're serving these up for dinner or just an appetizer, loaded is the way to go. These particular nachos are loaded with extra flavor and nutrition from using lean ground beef that's been blended with Monterey Mushroom's Let's Blend finely diced and pre-seasoned mushrooms! ​If you've been here before, you know I LOVE to use Let's Blend! From 
meatballs
 to 
stuffed peppers
 to 
stuffed mushrooms
, adding Let's Blend helps a recipe stretch further while also boosting the nutrient content and flavor! And with three flavors (Italian, Mexican and Classic), any recipes that calls for ground meat or chicken, is the perfect opportunity to use Let's Blend!
In case you're not sold on nachos for dinner, I want to share my philosophy on building a healthful meal. My goal for any meal of the day is to make sure I have a protein source, a grain/carb, at least one vegetable and fruit and a healthy fat. These nachos have all of those and I can guarantee the whole family is going to be excited about having a plate of nachos for dinner!
I also want to mention that this recipe takes only about 20 minutes. I don't know about you, but getting dinner on the table in anything under 30 minutes is a huge win in my house!
This recipe can easily be made vegetarian (or technically vegan if you cut the cheese and make sure to choose chips and beans that are free from any animal products)! I made a few simple swaps to ensure these were still hearty, but friendly for those who aren't wanting to eat meat! I added a base of refried beans to make sure there was ample protein and then still added the Mexican Let's Blend because the mushroom flavor, texture and nutrition give these a heartiness that other vegetarian nachos definitely don't have. I also opted for avocado chunks instead of guacamole because I felt like refried beans + guacamole could be a little heavy for chips (especially if you choose to use a grain free tortilla chip- those aren't quite as strong when it comes to holding toppings).
KISS Tip: Customize your nachos by adding other toppings your family will love! Corn, black beans, olives, banana peppers, corn and salsa are just a few other ingredients that go great on nachos!
Both versions are seriously scrumptious and are packed with ingredients you can feel good about serving your family. In fact, not only are mushrooms nutritious, but they are also one of the most earth-friendly and renewable crops available. One million pounds of mushrooms can grow in the space of just one acre while requiring minimal water and are ready to harvest in just a matter of days. Monterey Mushrooms is proud to provide fresh, locally grown mushrooms to grocery store and restaurants year round, from 10 farms strategically located across North America! And I'm proud to purchase their mushrooms, especially Let's Blend. I can't remember a time I made a trip to the grocery store in the past 6 months where I haven't purchased at least one of the three Let's Blend flavors!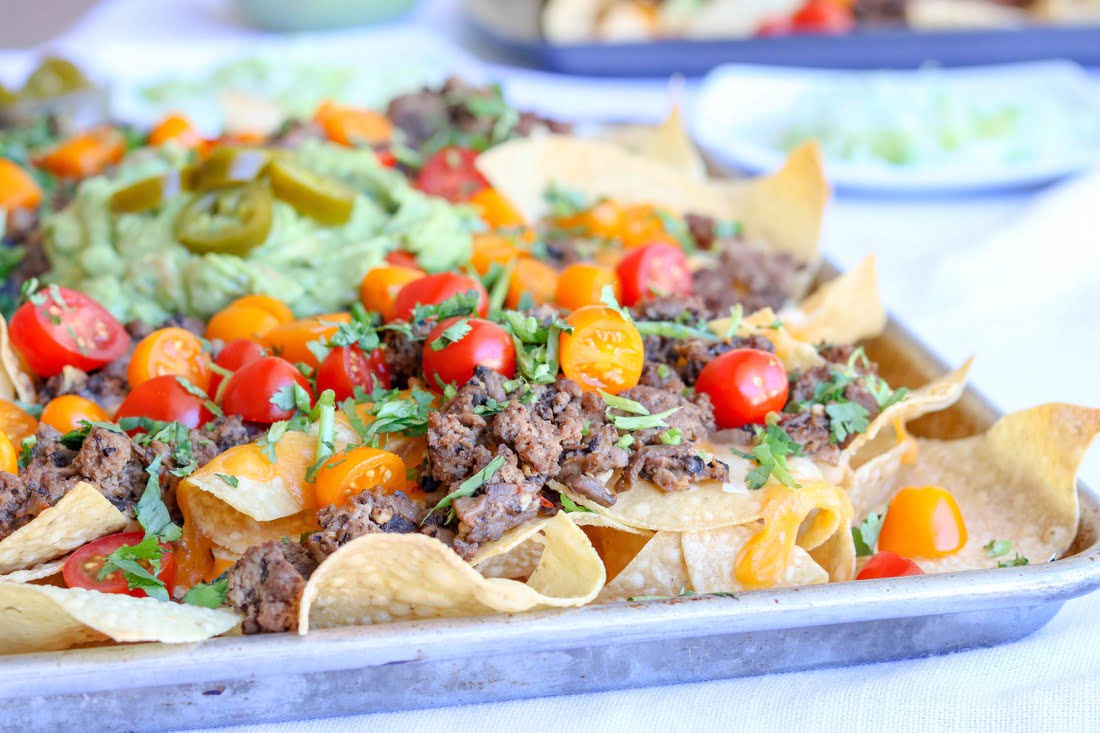 Print Recipe
Sheet Pan Blended Nachos
Ingredients
1

lb.

lean ground beef (93/7)

1

package

Monterey Mushroom's Mexican Let's Blend

(Learn how to create Let's Blend at home!)

1

16 oz. bag

tortilla chips

1

pint

cherry tomatoes, sliced in half

2

cups

thickly shredded cheese

(I used a bag of Mexican cheese)

1

cup

guacamole

1/4

cup

chopped cilantro

Jalapeños, fresh or pickled, if desired
For vegetarian version
1

15 oz. can

refried beans

(lard free)

1

large

avocado instead of guacamole
Instructions
Preheat oven to 350° and lightly grease a foil lined baking sheet with oil.

Spread tortilla chips evenly on top of greased baking sheet and sprinkle cheese on top of chips.

Prepare the meat and mushroom mixture by browning the ground beef over medium heat for 7-8 minutes or until no longer pink. Add 1 package of Mexican Let's Blend, mixing together over low heat for about 2 minutes, then remove from heat.

Spoon ground beef and mushroom mixture over the cheese and bake in the oven for 10 minutes or until cheese is melted.

Remove from oven and top with tomatoes and cilantro sprinkled on top. Place guacamole and jalapenos in middle of sheet pan or on the side, if desired.
Notes
For vegetarian nachos, add a base layer of refried beans on top of chips, eliminate ground beef and evenly spread Mexican Let's Blend on top of cheese and beans. Bake for same time/temp and once removed from oven, sprinkle with tomatoes, avocado chunks and cilantro.