Sheet pan cod with crispy potatoes will quickly become your favorite weeknight sheet pan meal. Meaty cod without a strong fishy flavor plus crispy seasoned potatoes and roasted tomatoes all come together with a creamy dill sauce that will have your tastebuds dancing! Don't be surprised when your kids ask for seconds of this cod sheet pan recipe!
Sheet pan cod is one of the easiest ways to prepare this flaky white fish. Baking cod on a sheet pan also allows you to add some delicious veggies in like crispy potatoes, that can cook along with the fish! Cod has a mild flavor and I personally find it to be a very family-friendly fish. My almost three-year old often requests it! That's also probably because she's a sauce fanatic and the creamy dill sauce can make anything taste good.
What do I need to make this cod sheet pan meal?
Fresh cod – frozen cod that has been thawed would work too- just make sure any excess water is drained.
Bite-sized potatoes – if you only have larger ones on hand, just be sure to chop them into small pieces so that they'll be nice and crispy!
Cherry tomatoes – these are so good when roasted and about to burst plus so easy to just plop on the pan!
Chimichurri seasoning – Italian seasoning will work fine if you don't have it but looking for chimichurri is definitely worth it!
Creamy dill sauce – while this meal is pretty yummy on its own, this creamy dill sauce is SO good to dip the cod and potatoes in! You'll need mayo, white wine vinegar, dried dill, salt, and pepper. Full recipe is below!
Yes, cod is a healthy fish! It is high in protein and low in calories. It doesn't have as much omega-3 as fatty fish, but it's a nice alternate protein source that is very easy to prepare. Plus, it doesn't contain high mercury levels so it's a great fish to eat if you're pregnant!
How do I cook cod in the oven?
Baked cod couldn't be any easier to prepare! It's a very forgiving fish, just don't overcook it. The ideal cooking temperature for cod is 400 degrees for about 12-14 minutes depending on thickness. You can use a fork to see if the fish flakes or if you're uncertain about using that method to determine if the fish is cooked, you can use a thermometer to make sure it's 140-145 degrees. I would recommend removing the fish from the oven to test doneness on the early side to avoid overcooking!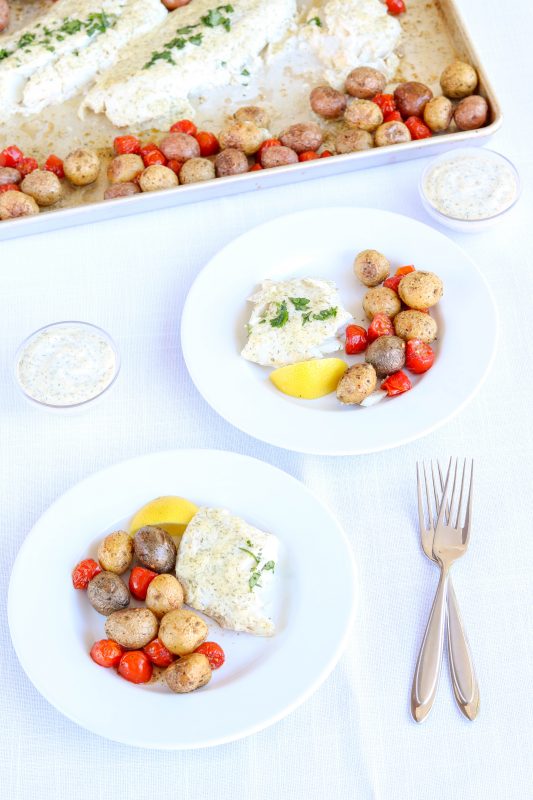 I created this sheet pan cod with crispy potatoes recipe at the end of 2020 but apparently it's taking me a good 6 months to get the recipe on the blog. I've probably made it ten times since. The creamy dill sauce alone is worth it! I often make extra for dipping the potatoes but also for basically dipping anything (vegetables, crackers, a finger) in the days following the recipe! If you're more of a "fried" fish kind of person, my friend Mary over at Mary's Whole Life has a delicious "Fish & Chips" cod recipe you can try!
KISS Tip: If you're not a potato fan, substitute asparagus and the ingredients can all cook at the same time!
KISS Tip #2: If you don't have chimichurri seasoning for the potatoes, Italian seasoning can work in a pinch!
If you're a huge fan of sheet pan meals, make sure to check out some of my others here.  There's several other seafood options like this Sheet Pan Shrimp Primavera or this Citrus Shrimp and Zoodle Sheet Pan meal. I'm so glad I decided to create this recipe with cod. It's truly such a delicious and easy fish to prepare. If you give this one a whirl, I'd love if you rated it below or left a comment!
Sheet Pan Cod with Crispy Potatoes and Creamy Dill Sauce
Ingredients
1.5

lbs

cod (2-3 filets)

1.5

lbs

bite-sized potatoes

(if you can't find bite size, cut small potatoes into bite size pieces)

1

pint

cherry tomatoes, cut in half

2

Tbsp

avocado oil

1

Tbsp

chimichurri seasoning

(if you don't have this on hand, Italian seasoning is a great alternative)

1/2

tsp

salt

1/2

tsp

cracked black pepper
Creamy Dill Sauce
1

cup

avocado mayo

2

Tbsp

white wine vinegar

1

tsp

dried dill

(omit or choose a different herb if you don't like dill)

1/4

tsp

salt

1/4

tsp

cracked black pepper
Instructions
Wash and dry potatoes. Let dry completely before putting them into a large bowl and coating with avocado oil. Add chimichurri, salt and pepper and mix well.

Spread potatoes evenly on an ungreased baking sheet and bake for 20 min.

While the potatoes are baking, slice cherry tomatoes in half and place in the same bowl that you used for the potatoes. Give them a good stir to pick up any remaining oil and seasonings.

After the potatoes have baked for 20 minutes, remove from oven, spray sheet pan and add tomatoes.

Using a wooden spoon or spatula, spread potatoes and tomatoes to sides of pan to allow room for fish. Place cod filets in the middle of sheet pan and cover with approximately half of the creamy dill sauce (a silicone brush works nicely), reserving the other half to dip the potatoes in when eating.

Bake for 12-14 minutes or until cod easily flakes with a fork. Enjoy!