---
I'm excited to partner with Georgia Grinders, my favorite nut butter company that sources the highest quality, natural and non-GMO ingredients for their Whole30 approved nut butters! As always, all opinions are my own, and I only partner with brands and products I genuinely love using in my own kitchen.
---
I feel like it's only appropriate that I start this post with a small disclaimer. I don't usually like wings, BUT this Spicy Pecan Butter sauce could turn anyone into a wing enthusiast. The sauce would honestly taste good on cardboard and I can confirm it absolutely tastes good on a spoon. This is definitely one of those recipes that left me feeling an appropriate (not overly bragging- I promise!) amount of pride when the recipe development was complete. And mark my words, if you haven't tried Georgia Grinders Pecan Butter yet, now is the time! Keep reading for why I LOVE LOVE this nut butter company and for a special discount for all KISS followers!
By now y'all already know how much I love Georgia Grinders nut butters. If you follow me on IG, you've surely seen pecan, hazelnut, almond or cashew butter make frequent appearances in my stories. Nut butters are one of the most versatile pantry staples, but I actually didn't discover Georgia Grinders nut butters until going on a Whole30 earlier this year. I'm pretty sure their pecan butter was the glue that kept me together during that Whole30 ;). I love nut butters in sweet applications (think oatmeal, smoothies, fruit, etc), but this savory sauce is hands down my new favorite. And I love that the ingredients are SO simple (nuts + salt) as their nut butters contain no added sugars or oils. You will never find palm oil, stevia, lecithin, or any other unnecessary ingredients!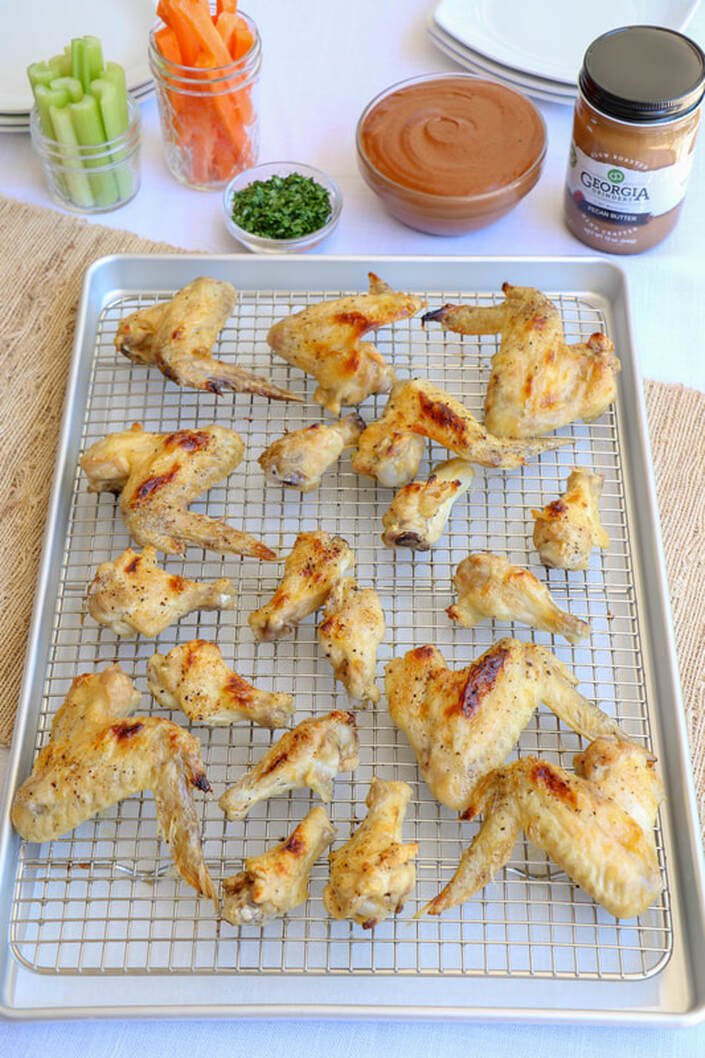 I'm not a seasoned wing maker so the recipe development process took a bit longer than usual. BUT the good news is the recipe meets KISS in the Kitchen standards with flying colors and all our hard work on the back end means you have an easy-peasy tried and true recipe you can whip up for Dad this Father's Day (or for anybody at any time of the year!).
KISS Tip: Switch up the wing sauce by swapping the pecan butter with Georgia Grinders Cashew Butter or Almond Butter!
It's truly an honor to be able to share Georgia Grinder's story #fromGroundtoGrind! They OWN and OPERATE their manufacturing facility and oversee every step in the production process to guarantee premium quality nut butters and freshness. Their standards are just one of the many reasons I love them!
KISS Tip: Did you know pecans are ranked among the top 15 foods with the highest levels of antioxidants? 
You might want to consider quadrupling (at least that's my game plan) the recipe below because the sauce is just THAT good. I've been dipping all the things in it and it can take plain chicken to a whole new level. I had leftover shredded chicken from these Buffalo Hummus & Chicken Nachos and I've been dipping the chicken in buffalo hummus and also this sauce. Creating all the healthy, yet still tasty dad-food definitely has its perks!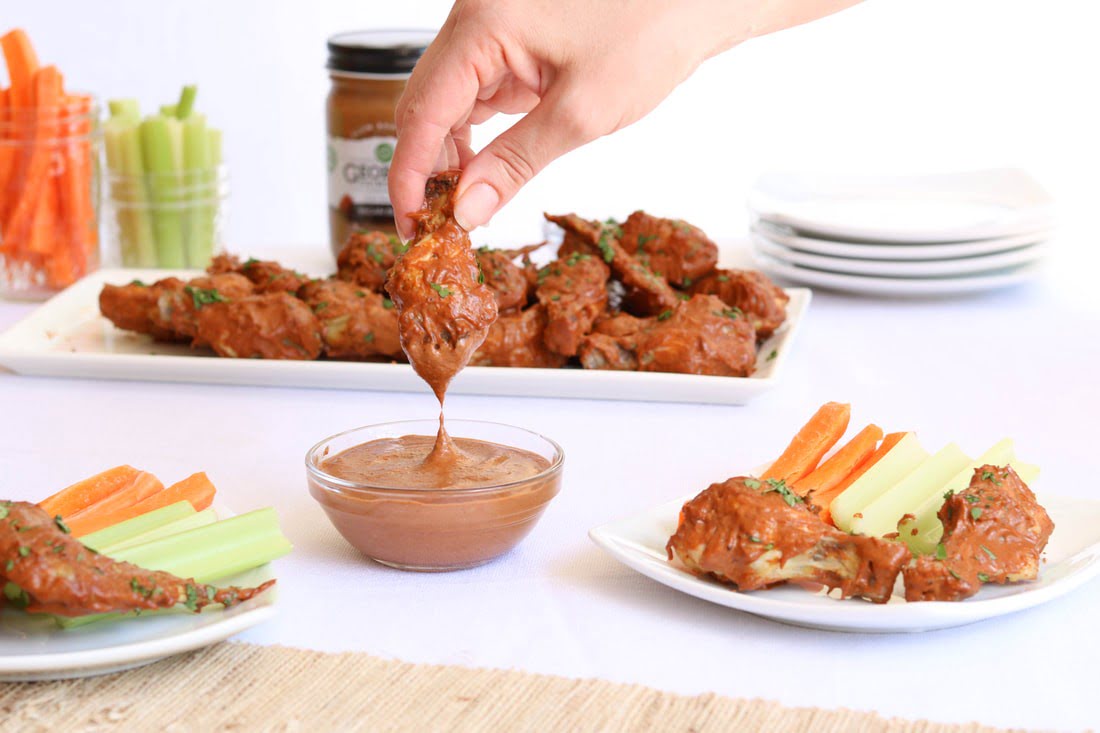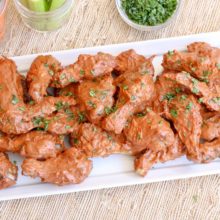 Print Recipe
KISS Spicy Pecan Butter Chicken Wings
Ingredients
3

lbs

chicken wings

(wing drumettes or wings, whichever you prefer)

2

Tbsp

avocado oil

1/2

tsp

salt

1/2

tsp

pepper

1

cup

Georgia Grinders Pecan Butter

1/2

cup

BBQ sauce

(I like Primal Kitchen's Classic BBQ sauce)

4

tsp

coconut aminos

1

Tbsp

chipotle powder

1/3

cup

avocado oil

2

Tbsp

maple syrup

(omit if following Whole30)

3

Tbsp

water

Fresh cilantro, chopped

Celery sticks

Carrot sticks
Instructions
Preheat oven to 400° and pat wings dry with paper towels and transfer to a large bowl. 

Coat wings with 2 Tbsp avocado oil, salt and pepper. 

Line a baking sheet with aluminum foil and place an oven-safe baking rack on the cookie sheet. This will help the wings cook evenly. 

Transfer the wings to the baking rack and place in the oven. Cook for 20 minutes, flip the wings and continue to cook for another 20 minutes. 

Turn the oven to broil and broil wings for 5 minutes or until crisp and golden. 

While the wings are cooking, prepare the wing sauce by combining the Georgia Grinders Pecan Butter, BBQ sauce, coconut aminos, chipotle powder, avocado oil and maple syrup in a medium saucepan.* 

Heat sauce on low-medium heat, stirring frequently until the sauce comes to a simmer. Simmer for one minute then remove from heat. 

Spoon sauce into a food processor and process until well incorporated. Add a Tbsp of water at a time, adding more if needed to obtain desired consistency. 

Once wings are fully cooked, remove from oven and let rest for 5 minutes. 

Toss wings or brush with prepared sauce. I find brushing the wings with sauce easier, but either method works. 

Garnish wings with freshly chopped cilantro and plate with carrot and celery sticks, serving with extra sauce on the side, if desired. 
Notes
*After making this recipe on Great Day SA, I discovered that the wing sauce can be a great consistency without heating/blending the ingredients. This is likely due to all ingredients being room temperature. Feel free to try this way by using room temperature ingredients (and well stirred pecan butter), but if you find yourself with a sauce that is separating, I'd suggest sticking with the above instructions for heating/blend!