---
This post is in partnership with 

California Giant Berry Farms

. As always, all opinions are my own, but it's a true joy to partner with a family owned farm that never sprays their naturally large and non-GMO strawberries with pesticides!
---
Back to school season always reminds me of the holidays a little bit. There's so much to get done, so many items to buy and things like eating healthy often get put on the back burner. Relying on make ahead meals is often the only way I can make a hot meal happen during these extra busy seasons. And let's face it- a hot breakfast somehow just feels a little more nourishing!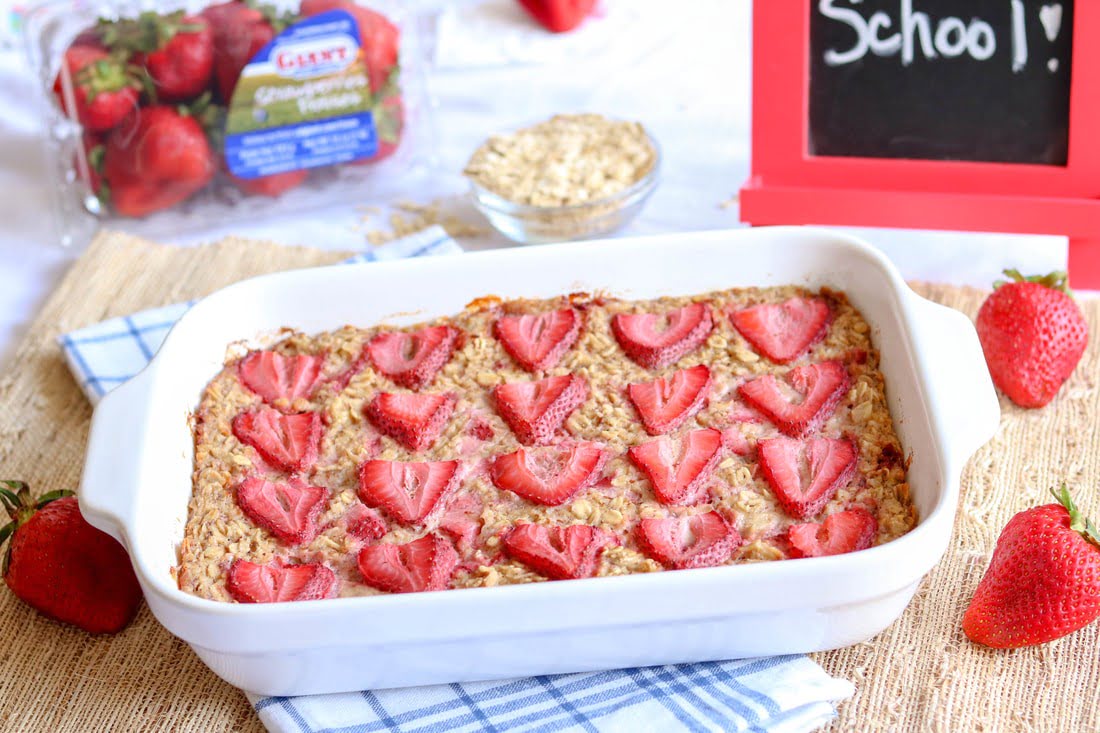 Oatmeal is one of those stick to your ribs kind of breakfasts and this oatmeal bake is guaranteed to make both kiddos and parents happy. Plus, it only takes a few minutes to prepare and has nourishing ingredients like rolled oats, ground flax seed and lots of strawberries! Many of you know from previous blog posts and social posts how much I love California Giant Berry Farms! They are a family farm that never sprays their non-GMO berries with pesticides and their strawberries are naturally large! You can probably tell from the photo those are some nice sized slices on top of the oatmeal and that's due to California Giant Berry Farm's perfect combination of an ideal location, soil, and climate!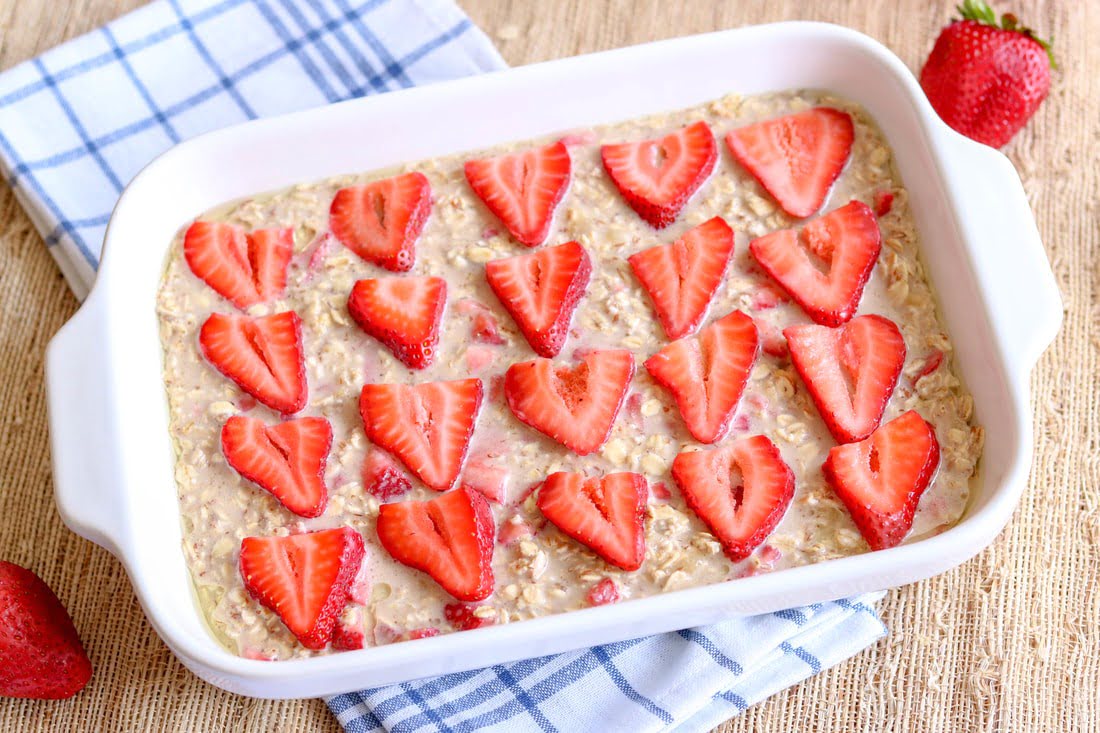 And because California Giant Berry Farms is a family farm, they value what it takes for the family to get back in the swing of classes, carpooling and after school activities! They want to make the transition as easy possible so they've created resources to help busy parents with easy and good-for-you lunchbox inspiration!
I've worked with countless parents who struggle to get their kids to eat breakfast. Many have shared with me their child is more willing to eat a hot breakfast, but that usually takes more time to prepare. This oatmeal bake solves that problem in a flash!​
This recipe makes 6 servings (8 servings if you have little eaters), but you can easily double the recipe depending on how large your family is. It reheats wonderfully, but also tastes great cold if that's more your thing. I've always been a fan of the strawberries and cream oatmeal (which doesn't have a lot of nutritional value) and also the classic combination of strawberry and banana. This recipe gives a nod to both and is super kiddo-friendly despite having a nice amount of protein and fiber!
The texture is hearty and you can't beat the sweetness of the California Giant strawberries! It also isn't too shabby served cold and could be the perfect way to switch up an afternoon snack!
For all those preparing sweet little ones for back to school or older kiddos with a little more attitude, you've got a big job! I hope this make ahead breakfast makes your mornings just a little easier and sweeter!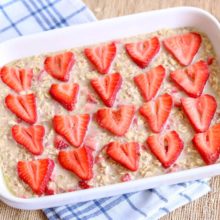 Print Recipe
KISS Strawberry Oatmeal Bake
Ingredients
2 1/4

cups

almond milk (or milk of choice)

3/4

cup

mashed ripe banana (about 2 medium bananas)

1

egg

1

Tbsp

melted coconut oil or butter

1/4

cup

pure maple syrup

1

tsp

vanilla extract

3/4

tsp

baking powder

1/2

tsp

salt

2 3/4

cups

old-fashioned oats

2

Tbsp

ground flax seed

1 1/2

cups

CHOPPED California Giant Berry Farms strawberries plus 1/2 cup SLICED strawberries

1/2

cup

sliced almonds (optional)

If adding sliced almonds, remove oatmeal from oven after about 20 minutes, sprinkle almonds on top, and cook the remaining 15 minutes.
Instructions
Preheat oven to 350 degrees and lightly grease a 2 quart baking dish.*

Chop strawberries and reserve 1/2 cup of sliced strawberries for topping (see photo).

In a large bowl, whisk together milk, mashed banana, egg, melted coconut oil, maple syrup and vanilla extract.

Mix together the oats, ground flax seed, baking powder and salt and add to the liquid mixture. Stir in chopped strawberries until combined.

Carefully pour the mixture into the prepared baking dish and place remaining strawberry slices on top of oatmeal.

Bake for 35 minutes or until oatmeal is set (insert a toothpick into the middle and it should come out mostly clean).

Let stand for about 10 minutes before serving. Serve oatmeal with additional strawberries, yogurt or milk, if desired.
Notes
* If you don't have a 2 quart dish, you can use a 9 X 13 dish and cook for about 5 minutes less. Oatmeal will be slightly thinner than pictured above. I would not recommend using a 8X8 dish for this because the center won't cook all the way through.
Reheat by placing a square of oatmeal in a microwave safe bowl and heat for 30-45 seconds, depending on your microwave.