---
I'm excited to partner with Monterey Mushrooms, the largest fresh mushroom grower in North America, for this post. As always, all opinions are my own, and I only partner with brands and products I genuinely love using in my own kitchen.
---
You know what I love about football season? It means that cooler weather is right around the corner! It also means tailgating, game day parties and that we're getting close to the holidays. So basically, there will be many opportunities in the next few months to feed a crowd and come up with a fun party menu! These Mushroom Cheeseburger Bites are hands down my favorite appetizer. They also happen to be one of the easiest, fastest and require the fewest ingredients of all the appetizers I've ever created. Even if my favorite team doesn't win, I'm winning with this recipe!
​Mr. KISS in the Kitchen has been eating Mushroom Cheeseburger bites as an appetizer, a snack and even for dinner one night. He also said "I wouldn't change a single thing about this recipe"- which is the ultimate complement considering he often says "it tastes great, but it needs more ______". And considering there are ONLY FOUR ingredients in these scrumptious bites, this one is a winner for sure.
By now, many of you have seen and tried some of my other recipes with minimal ingredients, like these 5 Ingredient Blended Meatballs and Taco Stuffed Beef & Mushroom Peppers. They all have one thing in common (other than being delicious)- they use Monterey Mushroom's Let's Blend! Let's Blend is finely diced and pre-seasoned mushrooms that come in Classic, Italian and Mexican flavors. They're basically the #1 way I add flavor and nutrition to my recipes while also making a meal stretch further from the addition of the mushrooms. I use the Italian for spaghetti, the Mexican is perfect for taco night, and the Classic is ideal for hamburgers or these Mushroom Cheeseburger Bites! They take a stuffed mushroom to a whole new level and are a hearty, yet simple, appetizer.
​For those in the College Station area, Monterey Mushrooms will be at the new H-E-B from 3-7pm on September 12th-14th! Swing on by the new store (2818 FM 2154 College Station, TX) to try some Mushroom Cheeseburger bites and also snag a coupon for $3 off Let's Blend (which means it's almost free!).
These Cheeseburger Mushroom Bites are super flavorful, moist and are totally reminiscent of a good ol' cheeseburger! You could mix ketchup or mustard into the ground beef and Let's Blend mixture, but I like doing a drizzle on top instead since everyone tends to like different condiments on their burgers. This is also a great recipe to experiment with! You could easily make these BBQ Cheeseburger bites with the addition of some BBQ sauce or some guac and salsa for Tex Mex Burger Bites. My friend, Amber, with Homemade Nutrition just made Caprese-Stuffed Mushroom Cheeseburger Bites and I can't wait to try her recipe! And while you're there, take a peak around! She has plenty of easy, delicious and good-for-you recipes your family will definitely love.
Whether you're the one planning a game day party or organizing a tailgate menu, I guarantee you these delicious bites will be gone in a flash!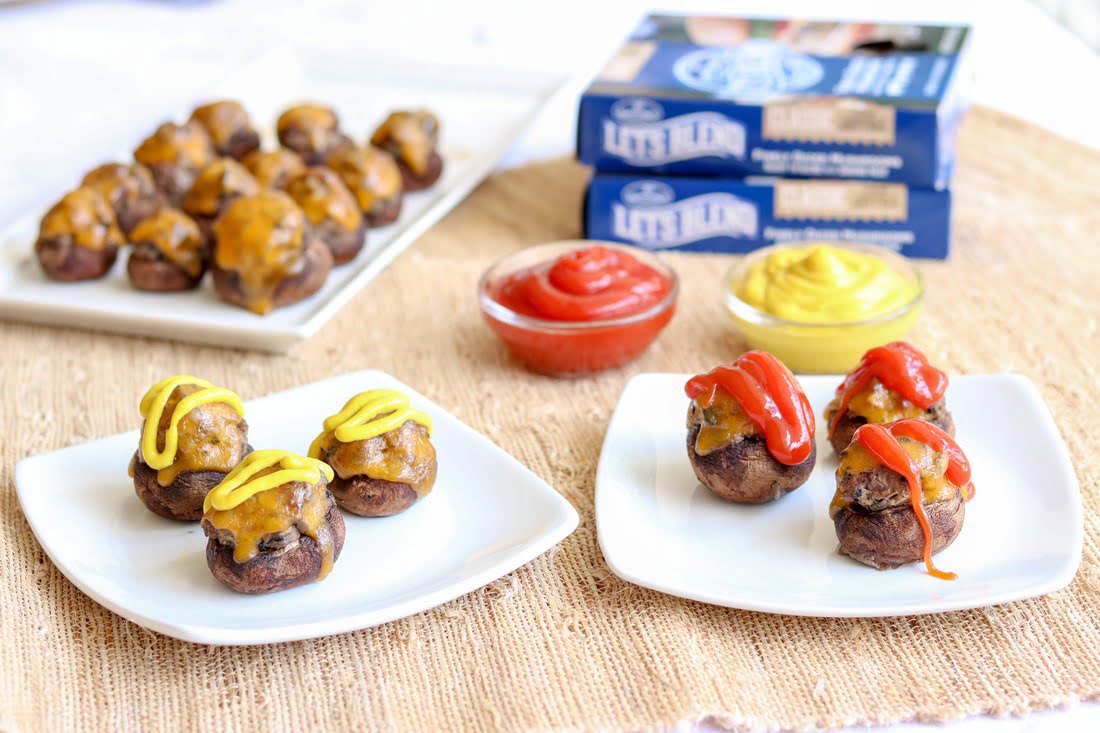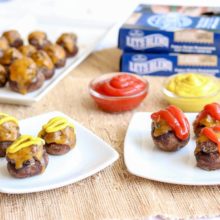 Print Recipe
KISS Mushroom Cheeseburger Bites
Servings:
3
dozen mushroom bites
Ingredients
24

oz.

Monterey Mushroom baby bella mushrooms, or about 30-35 mushrooms

(I purchased 1 16oz. package and 1 8oz. package of Monterey Mushrooms Baby Bella mushrooms)

1

package

Let's Blend Classic

(Learn how to make Let's Blend at home!)

1

lb.

lean (97/3) ground beef

4

slices

cheddar or American cheese, cut in small squares
Instructions
Preheat oven to 400° and grease a baking sheet.*

Rinse and dry Baby Bella mushrooms then remove stems. The stems should be completely pulled out, leaving room to stuff the mushroom.

In a large mixing bowl, mix together the ground beef and Let's Blend finely diced mushrooms, until well incorporated.

Using a 1 Tbsp measuring spoon, scoop ground beef and mushroom mixture and stuff into Baby Bella mushroom caps. Place mushrooms on prepared baking sheet.

Bake for 20 minutes, then remove from oven and place a cheese square on top. Bake for additional 2-3 minutes or until cheese has melted.

Remove from oven and let cool for 5 minutes. Enjoy warm with ketchup, mustard or any of your other favorite condiments!
Notes
* I like to use foil AND grease the foil for super easy cleanup!