Hi friends, Amanda here bringing you another delicious recipe with my personal favorite food, sweet potatoes. If you're a little late to the sweet potato toast trend, fear not, I've got you covered! Just when you thought sweet potatoes couldn't get any better you learn they can be used as toast, I think I had meltdown of happiness upon discovering this. It's so easy and tastes delicious, let's get started.
​
Before we can begin I have a little story to share; anybody who knows me knows sweet potato is my one true food love, I seriously can't go a day without it. During my freshman year of college I was eating sweet potatoes like crazy (living my best life). Orange sweet potatoes contain a vitamin called beta-carotene that gives it its orange color…you can see where I'm going with this. After eating lots of orange sweet potatoes my skin turned a very apparent shade of orange, which my family thought was hilarious and proceeded to make fun of me. Don't worry, this color change is called carotenosis and is easily reversed by decreasing consumption of foods high in beta-carotene (i.e. sweet potatoes and carrots).
How did I manage not having sweet potato everyday? I didn't have to, thanks to my little friend the japanese sweet potato which are white and won't change the color of your skin, I'm able to eat as much sweet potato as my little heart desires!
I feel like I should give some reasoning as to why I love sweet potatoes so much, aside from the fact that they are  just downright delicious. Sweet potatoes boast so many nutrients like vitamin A and C, as well as antioxidants that help fight off free radicals within our bodies! If those aren't good enough reasons I don't know what are.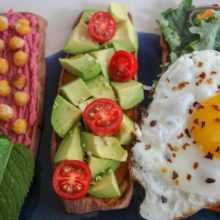 Print Recipe
Sweet Potato Three Ways
Ingredients
1

sweet potato

1/2

small

avocado

1

egg

1-2

Tbsp

hummus of choice

(I used beet hummus)

Chickpeas

Seeds/nuts of choice
Instructions
Preheat oven to 350℉ and place sweet potato in oven for 10 minutes (this helps to soften the potato so it is easier to slice into)

Remove sweet potato and slice longwise into 1/4 inch slices

Place toast slices and desired amount of chickpeas onto sheet pan and bake in oven for around 20-30 minutes (until potatoes are tender). 

While toasts are cooking prepare toppings, cut fruits and avocado, and cook egg as desired (poached, scrambled, soft-boiled, or fried) to decorate toasts.

Remove toasts from the oven and top with avocado and hummus, then with chickpeas, seeds, and cooked egg