---
This post features recipes from Natural Delights Medjool Dates- a brand I LOVE working with, but this is not a sponsored post. As always, all opinions are my own.
---
October is usually a wet month here in San Antonio, but it seems like November is the new October. Rain is falling, the weather is finally cooling off (a little) and as schedules ramp up- the slow cooker is my new best friend. Oh and speaking of new best friend- this past weekend I became a doggy foster mom. Let me go ahead and get those pictures out of the way… I've had her all of 48 hours and she's definitely nosed her way into my heart just a little bit.
Okay, back to why you came here in the first place- sweet, spicy, slow cooked pork. I've only made pulled pork a handful of times, but this recipe is on point with the balance of sweetness, spice and oh-so-tender meat.
If you know me just a little bit, you probably aren't surprised by those plump luscious Medjool dates in that photo. Yep- I used Medjool date paste in this recipe. SURPRISE! Add in some onions, chopped apples, apple cider a few other ingredients and this recipe quickly became a home run.
I used pork tenderloin which even on the low setting, cooks fairly fast. This would be a great recipe to try on a weekend (meal prep, anyone?) or half work day since it only takes about 5 hours to cook! Of course, you could also try cooking a larger pork cut like shoulder for a few more hours and let me know how it turns out :).
This recipe has so much moisture, ensuring this lean cut doesn't dry out. And once you shred the meat, it gets so saucy and droolworthy.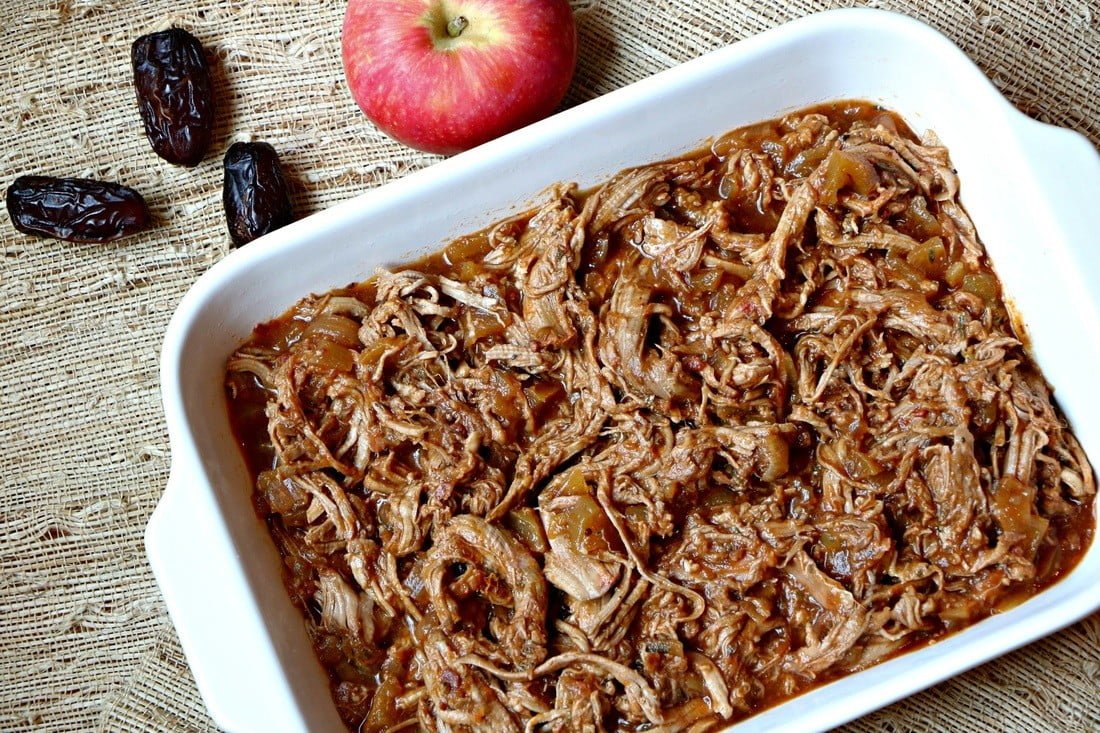 Print Recipe
Sweet & Spicy Pulled Pork
Ingredients
2 - 2 1/2

lbs.

pork tenderloin

1

medium

sweet onion, chopped

3/4

cup

apple cider

2

Tbsp

apple cider vinegar

1

Tbsp

balsamic vinegar

1

tsp

dijon mustard

1

Tbsp

minced garlic

1

tsp

paprika

1/4

cup

Medjool date paste or sweetener of choice, but I highly recommend trying date paste 

1

cup

chipotle BBQ sauce (or your favorite sauce that has a kick to it)

1

large

apple, chopped
Instructions
Line crockpot with plastic crockpot liner, if desired.

In a medium sized bowl or liquid measuring cup, whisk together apple cider, apple cider and balsamic vinegar, dijon, garlic, paprika, and Medjool Date paste.

Pour liquid mixture into crockpot, add in onions and place pork tenderloin on top.

Pour BBQ sauce and apples over the pork tenderloin.

Cook for 4-5 hours on low (I did 4 hours for my 2 pound pork tenderloin).

Remove the pork tenderloin from slow cooker and place in large serving dish. Shred with two forks and return to slow cooker for 20-30 minutes.

Transfer shredded meat and sauce back into large dish, shred more if desired, and serve on whole wheat buns, in lettuce wraps or all by itself!