Instant Pot bone broth made with vegetable scraps, filtered water and seasonings is the easiest way to make homemade bone broth that's nutritious and inexpensive!
Is Bone broth actually good for you?
Have you ever wondered if Instant Pot bone broth is actually healthy or a just a trend? Bone broth, especially homemade, is full of minerals, amino acids, collagen and other nutrients. It can potentially aid in digestion and is one of my go-to if I have to take a course of antibiotics or am concerned that my gut health has been compromised. Some studies suggest it can be beneficial for overall joint health as well. Bone broth isn't a cure all, but it's an easy, affordable (especially when you make it at home) and delicious way to potentially boost your nutrition.
Is it better to make your own bone broth?
Making Instant Pot bone broth at home is not only nutritious but also a great way to save money on store-bought broth or stock! Bone broth is one of those trends that I was pretty late to hop on board with but so regretful I didn't try making it at home earlier. For so many years I tossed out bones and vegetables scraps and had no idea that both of those could easily be used to make homemade Instant Pot broth that's incredibly nutritious and also a money saving ingredient to keep on hand.
How do I make the healthiest bone broth?
The question of how do I make the best and healthiest bone broth is a good one. Bone broths are not all created equal and here's 4 important things you can do to make sure your homemade Instant Pot bone broth is the most nutritious!
Use organic bones, organic vegetables and spices, when possible.
Use filtered water (ideally by reverse osmosis or if you have a Berkey or similar filtration system, that's great also!)
Don't forget to add in a few splashes of apple cider vinegar before cooking to help maximize the bones releasing their minerals into the broth.
If you didn't use organic ingredients or for any reason question the quality of the bones, I would make sure to skim the fat off the top that will accumulate after the broth cools.
Is it cheaper to make your own broth?
Have you seen the price of organic chicken or beef broth lately? It's not cheap and many soup recipes (including my own, like this Chicken Avocado Soup or Beef and Vegetable Instant Pot soup) call for six cups or more of broth. I also find it easier to justify my purchase of organic meats (especially for whole chickens) when I know I'll be using those bones for broth later.
How do I make bone broth in an Instant Pot?
If you're wondering if it's easy to make bone broth in your Instant Pot or pressure cooker, it truly couldn't be simpler. I have an Instagram highlight that walks you through the simple process here, but I'll also outline it below as well.
Technically the very first step would be to actively be saving bones and vegetable scraps (carrot and celery ends, mushroom stems, onion pieces, etc.) so you'll have them on hand when you need to make broth. I keep one or two gallon bags in the freezer at all times for collecting bones and scraps.
Step 1: Place frozen bones and vegetable scraps in your Instant Pot.
Step 2: Add in extra fresh vegetable scraps for more flavor and/or if you don't have enough frozen.
Step 3: Add filtered water to the fill line.
Step 4: Add in your favorite herbs and spices. Some of my favorites are black pepper corns, garlic powder, Italian seasoning and sea salt (see recipe below for specific suggested measurements) AND make sure to add a few splashes of apple cider to help the bones release more of their minerals.
Step 5: Stir then select the Manual or Soup/Stew button for 2.5 hours. I often let it sit in the pot for hours if I'm out running errands. More cook time just means richer flavor!
Step 6: Strain the ingredients. This can be tricky. I prefer to position the Instant Pot close to the sink and use a pitcher and/or ladle with strainer to help cut down on mess and hot broth splattering.
Step 7: Transfer broth into mason jars or containers of choice and make sure to leave some space at the top if you intend on freezing the broth. This is needed to allow for the broth's volume to expand while freezing.
KISS Tip: Let broth cool with the lid off if time allows so you don't risk your glass mason jars or other storage containers breaking from the heat.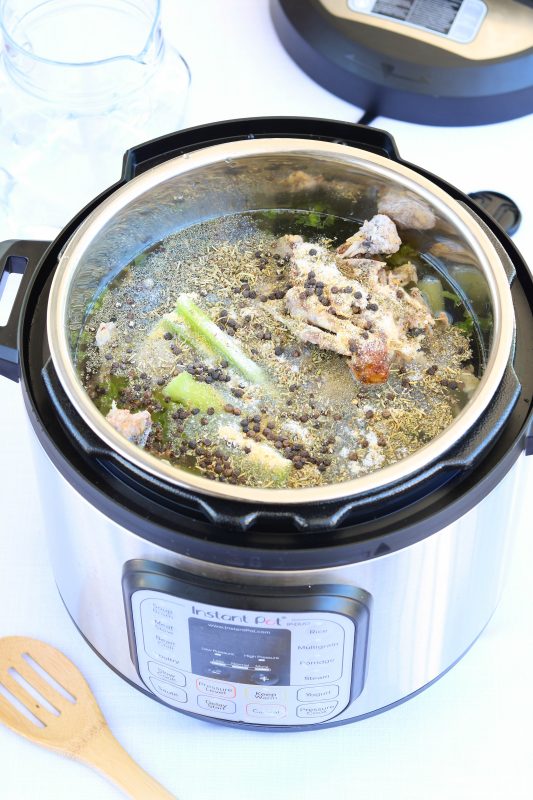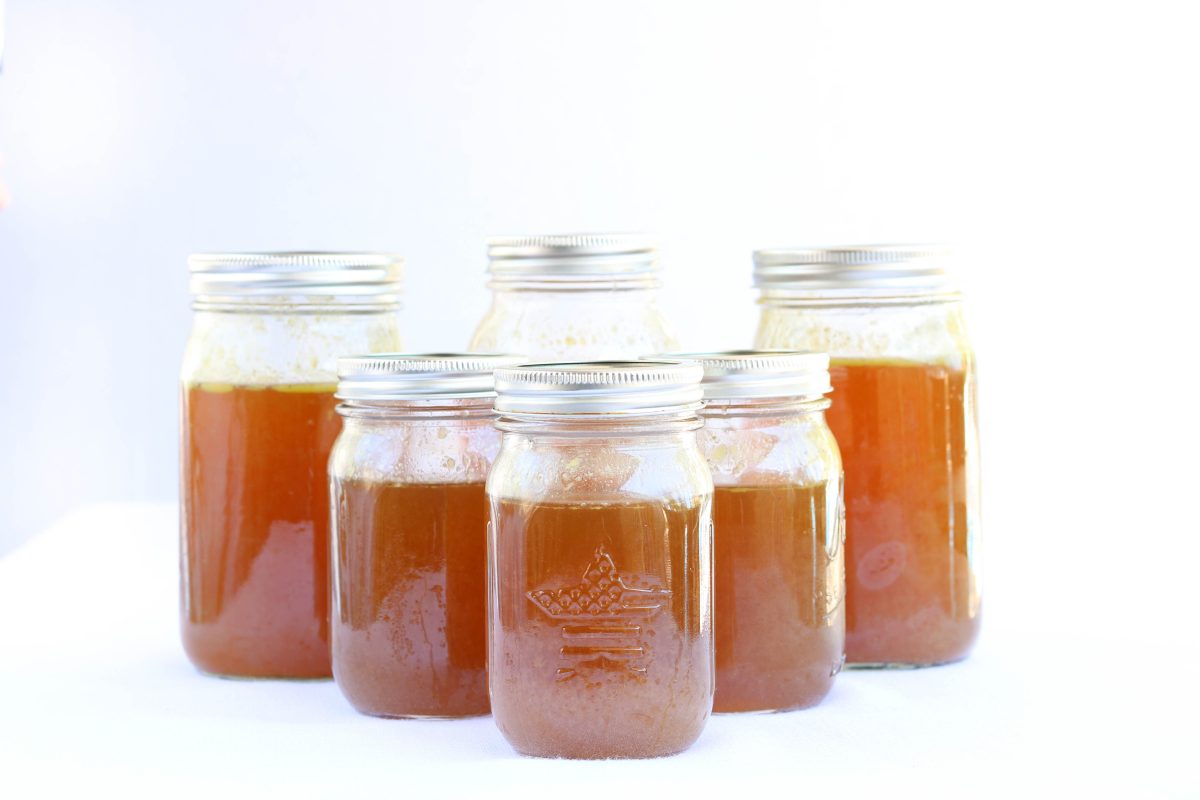 I hope you're feeling more inspired than ever to make Instant Pot bone broth and I'd love to know how you're enjoying it if you do!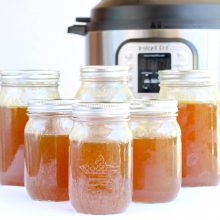 Print Recipe
Instant Pot Bone Broth
Ingredients
Bones from 1 4lb. chicken or more

(I keep these in the freezer in freezer-safe bags, along with the veggie scraps, until I have a good amount to make bone broth).

Assorted veggie scraps (carrot & celery ends, mushroom stems, etc.)

(I keep these in the freezer along with the bones)

Filtered water

(enough to fill to fill line in Instant Pot)

Suggested herbs and spices:

1

Tbsp

sea salt

1-2

Tbsp

whole peppercorns

1

Tbsp

garlic powder

1

Tbsp

Italian Seasoning

2

Tbsp

apple cider vinegar
Instructions
Place bones and veggie scraps inside Instant Pot. Add additional fresh veggie scraps for more flavor or if you don't have enough frozen.

Add filtered water to the fill line on the inside of the Instant Pot.

Add in herbs and spices, along with apple cider vinegar.

Give everything a good stir, secure the Instant Pot lid and put on the 'Manual' or 'Soup/Stew' setting for 2.5 hours.*

When the Instant Pot timer goes off, I like to do a natural release, but you can also do a quick release if you need the broth sooner.**

Once all of the pressure has been released, place a large pitcher or measuring cup in the sink with a strainer sitting on top and pour the broth in.

Pour the strained broth into mason jars. Let the broth cool before putting the mason jars in the fridge or freezer. If you are freezing the broth, you'll want to leave extra space at the top of the jar to allow room for it to expand.

Remove from the freezer and thaw when needed!
Notes
*I often let mine sit in the Instant Pot for hours after it's done if I don't have time to tend to it right away. It will just end up with a richer flavor. **To perform a natural release (my preferred method), simply leave the Instant Pot valve in the sealed position and allow the pressure to release by itself. This may take anywhere from 30 minutes to over an hour depending on the amount of liquid in the Instant Pot. If you'd rather have the broth sooner, you can perform a quick release by switching the valve to the venting position and allowing pressure to release that way.