If you've been following the blog for a while, you may remember last year's Three Ingredient Pancakes. Well, this recipe got a serious upgrade… not just with the photos (although it's certainly humbling to see my food-photography skills, or lack thereof, from a year ago), but with the third ingredient. Many of you might have already tried and fallen in-love with two-ingredient (egg + banana) pancakes, but have you tried them with seed butter?! *drool*
If you haven't tried this style of pancake before, I know you may be thinking "How can eggs, bananas and seed butter create that delicious stack of pancakes?", but rest assured, I haven't bamboozled you. 
I won't try to explain the food science part (largely because I'm not going to pretend I 100% understand it myself), but these pancakes are the coolest. I'm a big egg person- I eat eggs at least 4-5 days a week for breakfast, but this is an extra creative way to enjoy eggs since each batch has 2 eggs, 1 banana and about a tablespoon of your favorite seed butter!
You can definitely add a touch of maple syrup to this gorgeous stack of hotcakes, but I'd suggest trying them first- you may find they're sweet enough just from the ripe bananas used in the "batter"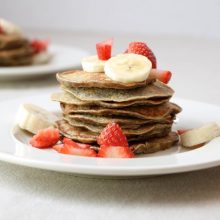 Print Recipe
Three Ingredient Pancakes
Ingredients
1

large

banana

2

large

eggs

1

Tbsp

seed butter

1/8

tsp

baking powder, if desired
Instructions
Mash banana with a fork in 2 cup measuring cup or medium sized bowl.

Add 2 eggs, the seed butter and mix well until all ingredients are mixed and almost frothy.

Add baking powder if desired.

Heat skillet on medium-high and add about 2-3 Tbsp of batter (use a small ladle or 1/4 cup measuring cup filled a little more than halfway).

The batter should sizzle immediately. Flip each pancake gently after 1 minute and cook for 1 more minute. Remove carefully and enjoy while warm!