Hey y'all! It's been a little while since I posted and I'd apologize, except I'm so not sorry. I took some time for me- to even include a several day social media "cleanse" (I RARELY use the word "cleanse", but it seems fitting here). I was honestly terrified about being unplugged, but it's actually been kinda amazing. I highly recommend it. Other updates on my end include… it's freaking hot in Texas. And when it's hot, I want my food to be on the cold side. Y'all know I love my smoothies, but it's time I gave some love to smoothie bowls.
Smoothies bowls are so much fun and also pretty (if there is a dude reading this, I know I just lost you talking about pretty food, but seriously- look at this bowl, it's pretty!). And the great thing about smoothie bowls is you can take any one of your fav smoothie recipes that you already love, dump it in a bowl, throw some toppings on it and all of the sudden you just got fancy.
Smoothie bowls are also perfect for Mother's Day because kiddos can have fun showing mom some love by decorating a bowl of healthy delicious goodness and serving it to her on her special day. I'm not even a momma yet, but I sure do think moms should get more than one day a year! And I think the same for dads :).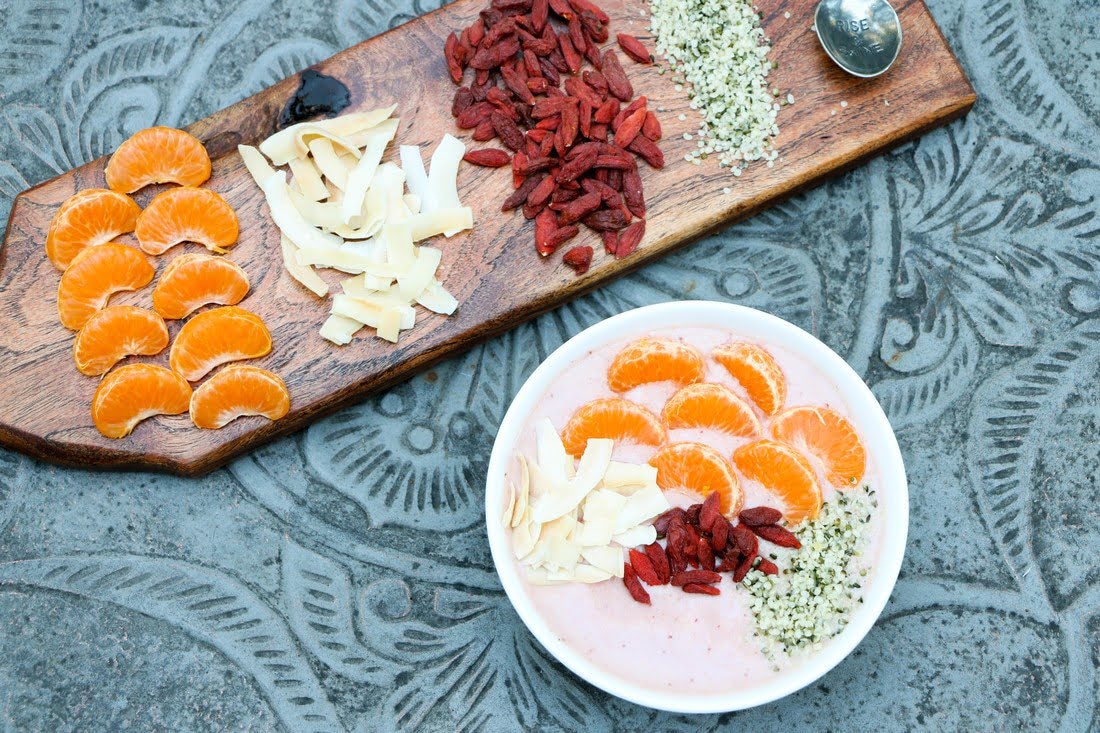 ​
My mom is a beautiful woman inside and out. We've both been through some stormy times the past two years and we've grown even closer to each other and closer to God. So grateful the Lord made her my momma! She deserves a smoothie bowl.. and so much more ;).
Wishing all the mommas and future mommas a beautiful Mother's Day!
---
KISS Tropical Smoothie Bowl
Serves: 2
Times: 10 minutes
Ingredients
2 1/2 cups frozen fruit (I used a mixture of frozen mango, peaches and strawberries)
2 cups unsweetened Ripple milk or other milk of choice
Toppings 
1 mandarin orange, peeled and pulled apart
1/4 cup goji berries*
1/3 cup dried coconut chips or shredded coconut
2 Tbsp hemp seeds
Instructions
1.) Place all ingredients in high-speed blender or Vitamix and blend until smooth.
​2.) Pour into two bowls, evenly divide toppings and enjoy!
*Feel free to swap out cranberries if you're not a goji fan (or avoid nightshades). Have fun and try other topping swaps that make you or mom happy :).
---