It's getting real, y'all. Our baby will be here… really soon, and I've finally put the finishing touches on my hospital bag. I figure there's so little I can control in pregnancy and parenthood so I'm relishing in the handful of things I can be totally type A about without it blowing up in my face (at this point, I actually think packing the hospital bag is the only thing that fits this criteria!). My birth plan? When I'll go into labor? How long labor will last? Breastfeeding? Sleeping patterns? Yeah- it's all a matter of trust and surrender, but boy did I have some fun organizing the heck out of this bag! From snacks to breastfeeding essentials to adorable outfits, I'm sharing it all. And although she's not on the list, I'll definitely be be bringing our doula- she has been a tremendous resource, friend and encourager and we're so grateful for her help!
Snacks. Most of y'all know we've been in the middle of a big move so although I started packing my hospital bag about 6 weeks ago, that basically meant I had put snacks in a bag. Because where else would I start when staying overnight anywhere?
88 Acres Bars ( these are hands down my favorite snack bar on the market! I've been ordering bars from them for a couple years now, but most recently they're available on Amazon- making it even easier to get these delish and allergy-friendly bars! 
Nuts
Medjool dates
Coconut water (it can count as a clear liquid but still has some electrolytes so I included a couple bottles!)
Breastfeeding. It's my hope that all will go well with breastfeeding and I packed some essentials to hopefully help set us up for success!
Earth Mama Organics organic Nipple Butter
Bamboobies Nursing Washable Pads (hands down the softest nursing pads you've ever felt!)
Milk Snob nursing cover (I may not need this quite yet, but it doubles as a car seat cover and was too cute not to bring!)
Boppy pillow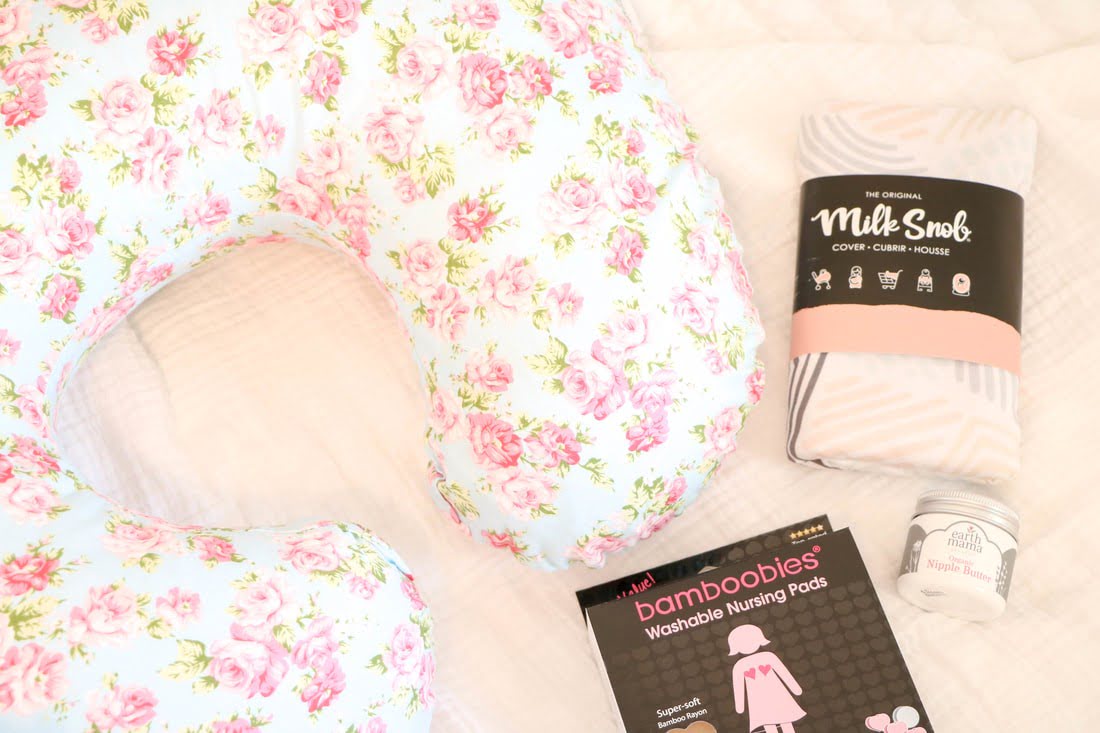 Clothing. Basic and comfy clothing is the name of the game.
Nursing Bra 
Nursing Tanks
Baggy pajama pants
Loose fitting, nursing-friendly button up shirts
Post-partum leggings (Blanqui leggings are my fav)
My orthotic flip flops (yep, I'm a grandma. Many people bring no-slip socks, but I want my super supportive flip flops instead).
My own laboring gown (I wanted to labor in my own clothes for comfort reasons) and I chose a Milk & Baby Labor & Delivery gown
Nursing robe (matches my laboring down)- I had already ordered the matching newborn outfit so baby girl and can hopefully have our first Mommy and Me photo. It's so fun (and risky) to write this stuff now because I have no earthly idea how the labor and hospital stay will go, but hopefully I'll have enough energy to put ourselves together for a photo ;).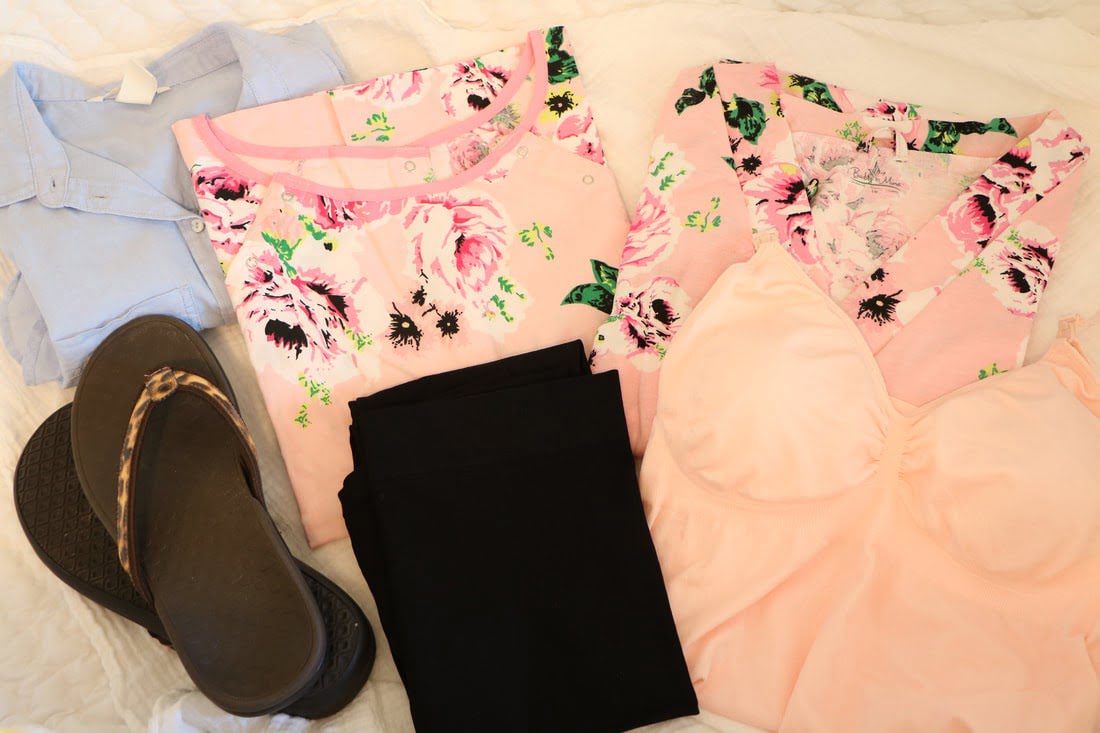 Skin care and beauty products. There's nothing like becoming a mom that makes you finally evaluate skin care products, especially lotions, facial care and deodorant! I've been using Young Living Essential Oils for years and packed some of my favs and a diffuser (Valor, Gentle Baby and I felt impressed to bring Joy too) to hopefully bring some peace and strength during labor.
I also packed this adorable Baby Kit from Primally Pure. All the items are mama-friendly too and I'm bringing their charcoal deodorant also. I also packed my standard overnight toiletry bag which has all the basic things you'd expect (toothbrush/paste, floss, etc. etc. etc.). Other must haves:
lip balm X 3 because I always lose them!
Hair ties, hair clips and dry shampoo (praying baby decides to come right after I wash my hair but regardless, pretty sure I'm going to be ordering more and more dry shampoo in the months to come 
Earth Mama Perineal Spray and Balm (I've heard this stuff is a life-saver for down there!)
Makeup bag- just in case I have the energy to put a bit of primer and mascara on. And if not, that's okay too.
Shower flip-flops, a body loufa and a soft towel
Baby Essentials
Going home outfit in a couple different sizes 
Baby Kit (the Primally Pure mentioned above)
Socks/hand mittens/cap/headband (not gonna lie- may have brought several different options to coordinate with the different going home outfit options.)
Swaddle blankets and a sleep sack just in case we aren't master swaddling parents
Car seat (we also brought the extra head support cushions so her little head won't wobble on the ride home!)
Burp cloths- rumor has it you can never have enough anywhere you go!
Other miscellaneous essentials:
Copies of my birth plan, ID, insurance card, credit card
Birthing ball
Camera, phone, charger
My own pillow
Any vitamins/supplements I've been taking
Extra collapsible bag just incase I come home with some hospital goodies (diapers or disposable undies, anyone?)​
An empty folder to file any important papers for baby girl
Pregnancy journal
Mr. KISS in Kitchen is just as type A as me so he's managing the packing of his own bag, but I've suggested he pack anything he would normally need for a one or two night stay somewhere. We can't wait til our sweet girl is here and I'll be sharing some of our newborn essentials next month!