---
Disclosure: This post is not sponsored by any company or brand. If free samples were provided, there is a notation below, and all opinions are my own.
---
There's something about being a dietitian that makes everyone around you want to know what you eat. What's in your fridge. What's on your plate at a restaurant. What's in your pantry and what's in your grocery cart. My clients often say things like "I bet you have _________ (usually something green and leafy) in your fridge.", although after a first visit they know I have more than green and leafy stuff. Is my fridge full of healthy stuff? Sure. Is there Ben and Jerry's in my freezer? You betcha.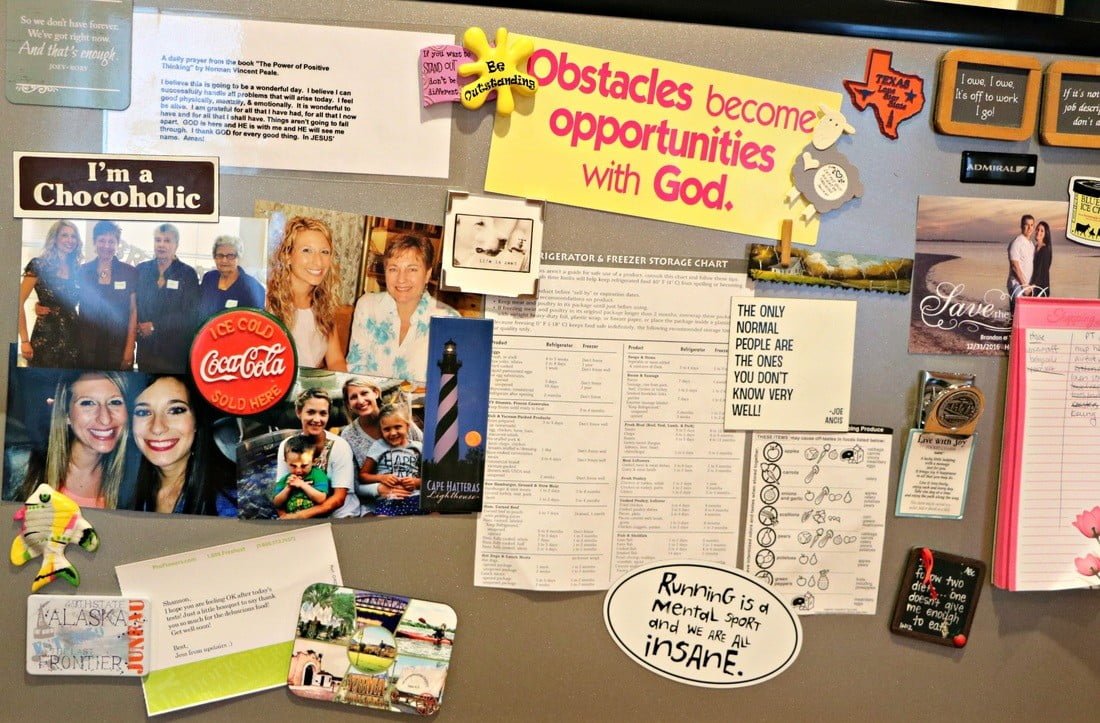 Let's take a look inside……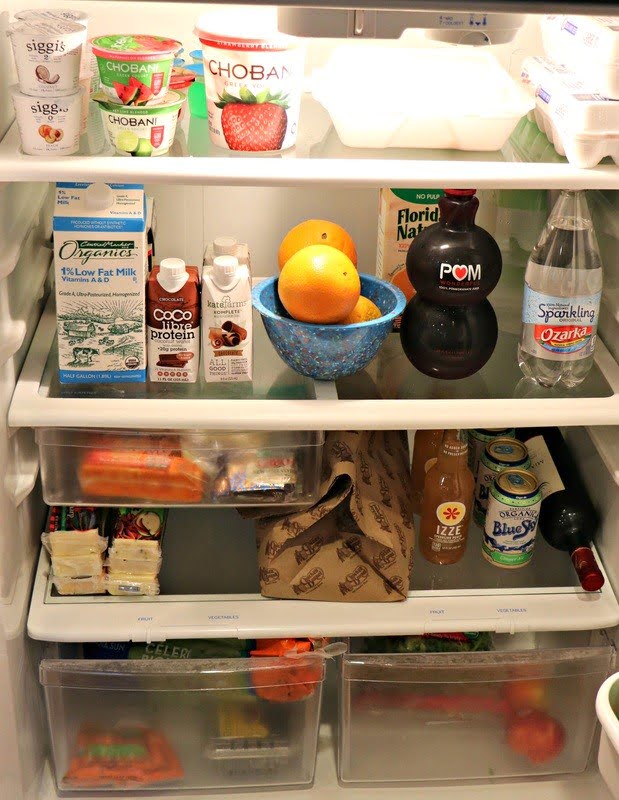 Recently, my fridge pooped out on me. I had to toss some of the food.. which, let me tell ya- as a dietitian, the struggle is real. It's like we have some innate extra emotional tie to our food so we REALLY don't want to toss it. BUT the part of our brain that has the food safety rules engraved on it… THAT PART starts naming all the different bacteria that could have taken up residence in the fridge. So in my case, I tossed some and transported a good 5 pounds of cheese to a friend's house for safe temperature keeping. BUT just like my
recent colonoscopy blog
, I'm taking a positive spin on the restocking of my fridge. Alright- let's be honest, I'm slightly taking advantage of the situation for blog content and groceries as a tax writeoff, BUT can you blame me? #foodbloggerprobs #jobperks
The top shelf probably gets the most action. I eat yogurt 1-2x every day so there's a constant rotation flowing of yummy yogurtness. My all time fav is siggi's- well known for having more protein than sugar, but I also love me some Chobani Watermelon yogurt! I recently stocked up on fun summertime flavors for the yogurt buttons featured in my
Fun & Healthy Summer Recipes
blog post.
​Eggs are another staple in my diet- from hardboiled to my favorite childhood scramble, I'm often enjoying the incredible edible egg. I usually purchase Eggland's Best Eggs or if I'm lucky I'll grab some farm fresh eggs from the farmer's market or my friend, Bree's backyard.
​
And, in case you're wondering, there's half a grilled cheese in that to-go box.
It's summertime so that means hydration is a must. I like to alternate between Brita water and sparkling water or if I'm feeling kinda fancy, I'll make a
POM mocktail
(sometimes cocktail).
​
Although I try to take a food first approach, I always keep boxed protein drinks around. My fav is Svelte "you've got appeal" Banana Creme (not pictured), but I'm loving these free samples I just got of Kate Farms Komplete shakes!
Cheese. Cheese. Cheese. Like I mentioned earlier, I transported cheese to a friend's fridge when I realized my fridge was dying.
That morning could be summed up in a few words "Operation Save the Cheese".
Cabot Cheese recently sent me the most generous and delicious sample package. I used their chipotle cheddar in these
Peachy Green Quesadillas
a couple weeks ago and no doubt, there will be many more recipes to come! #cheddarforthewin
​We should probably take a closer look at that cheese drawer….
Now do you see why I loaded up the cheese and made sure it was safe?
​
I'm not usually a gingerale or Izze drinker, but they're leftover from my
Clear Liquid Diet
post earlier this week, and that Cracker Barrel Bag was from lunch today with my grandparents.
Side note- my grandma ordered chicken livers then proceeded to tell the waitress that "these look more like fried turds than livers".
#facepalm
​
No fridge of mine would be complete without a chilled wine bottle… or three. Right now I'm chilling a bottle of MIA ROSA Dolce Rosso. Stay tuned for a wine pairing blog post next week featuring this sweet, sassy and classy vino! UPDATE: Try these
Spicy Chocolate Cherry Snack Bites
with a chilled glass of Dolce Rosso!
My fruit and veggie drawers are truly less filled than usual, but I'll be stocking up at the farmer's market this weekend!
And a little sneak peak of the freezer for you! I usually have some healthy frozen meals because… I'm a busy human. These Luvo meals are my fav! Luvo does an awesome job of making nutritious and delicious meals without a bunch of ingredients that just don't need to be in there. I've been a fan for a while and I was so relieved that these delicious options were kindly sent to me right after my fridge got fixed!
Freezer staples normally include a few protein options, a bag of Alexia Sweet Potato Fries, frozen fruits and veggies (haven't restocked those yet!) and a pint of ice cream- often Baskin Robbin's or Ben & Jerry's. Because ice cream.
​
Thanks for taking the fridge tour with me!