As a registered dietitian with a private practice, a food blog and multiple nutrition degrees, I needed another business like I needed a hole in the head. Becoming a Beautycounter consultant was NEVER on my radar and if you would have asked me a couple years ago if I would ever be open to it, I would have laughed in your face, thought "no way would I work with one of those companies' and probably dodged any communication from someone trying to get me on board. And I'm really really glad that no one ever actually approached me about this business. The opportunity sorta fell in my lap and… well, here's my story.
Why did I become a Beautycounter consultant?
When I was in my third trimester with my daughter Joy, I began to learn about common ingredients in personal care products and also that what we put on our bodies really matters. As a dietitian, I honestly thought I had it all together. I was focused on what I put in my body and moving my body, but was simultaneously ignoring what I was putting on my body. I didn't know it mattered. I didn't know the laws that so loosely govern the personal care industry hadn't been changed since 1938. I didn't know 80,000 ingredients had been introduced in the past 80+ years and that only 20% had even been tested on humans. And I certainly didn't know that while Europe bans 1400+ ingredients and Beautycounter is banning 1800+, the United States is stuck in the stone ages banning a mere 30. And that so many of these ingredients are potentially harmful because they're allergens, carcinogens or endocrine disruptors. But you know what?
When you know better, you do better.
So in those last few months of pregnancy, I made some changes. I switched to natural deodorant (no small feat in late Spring/early Summer months of Texas), but thank goodness I found my one and only (I love Primally Pure's charcoal deodorant. If you're on the search for a natural deodorant, I highly recommend this one. Code KISS takes 10% off!). I also almost stopped wearing makeup because third trimester/postpartum life led to that anyway. But I wasn't quite ready to switch up my skincare yet due to the whole process feeling very overwhelming. I was also fearful that a safer makeup would leave me greasy and without coverage so I remained paralyzed for a few months and was very unsure of what to do.
And then one fall day, this little nugget, pulled a classic baby move and latched on my face. And as Mama wanting so desperately to enjoy that sweet moment, I couldn't. I couldn't because I knew I was wearing products full of chemicals and she was literally ingesting them right off my cheek. So the big overhaul came. I had already begun to research different companies and had been talking with my best friend about this company called Beautycounter. I was really interested in the products but wanted the discount so decided I would try the whole consultant thing but not like really do it, ya know? Like sign up, get the discount, get a starter set at 40%+ discount and just use the products I wanted anyway, right? After all, I had done that with essential oils for several years and no one even knew…
Why I couldn't keep being a Beautycounter consultant a secret
The products arrived and everything I tried I was immediately obsessed with. I wasn't quite sure how I had made it to 33 years of life without using cleansing balm before, but I was sure glad I didn't have to go another 33 years without it! I tried the makeup and much to my surprise, it outperformed my MAC and Urban Decay eyeshadows. The only very unexpected difference was I could now wear my contacts for 8 hours compared to the usual 30 minutes, before I ripped them out. I just thought I couldn't comfortably wear contacts because of my astigmatisms, but I apparently had sensitivities to my previous eye makeup products and didn't even know.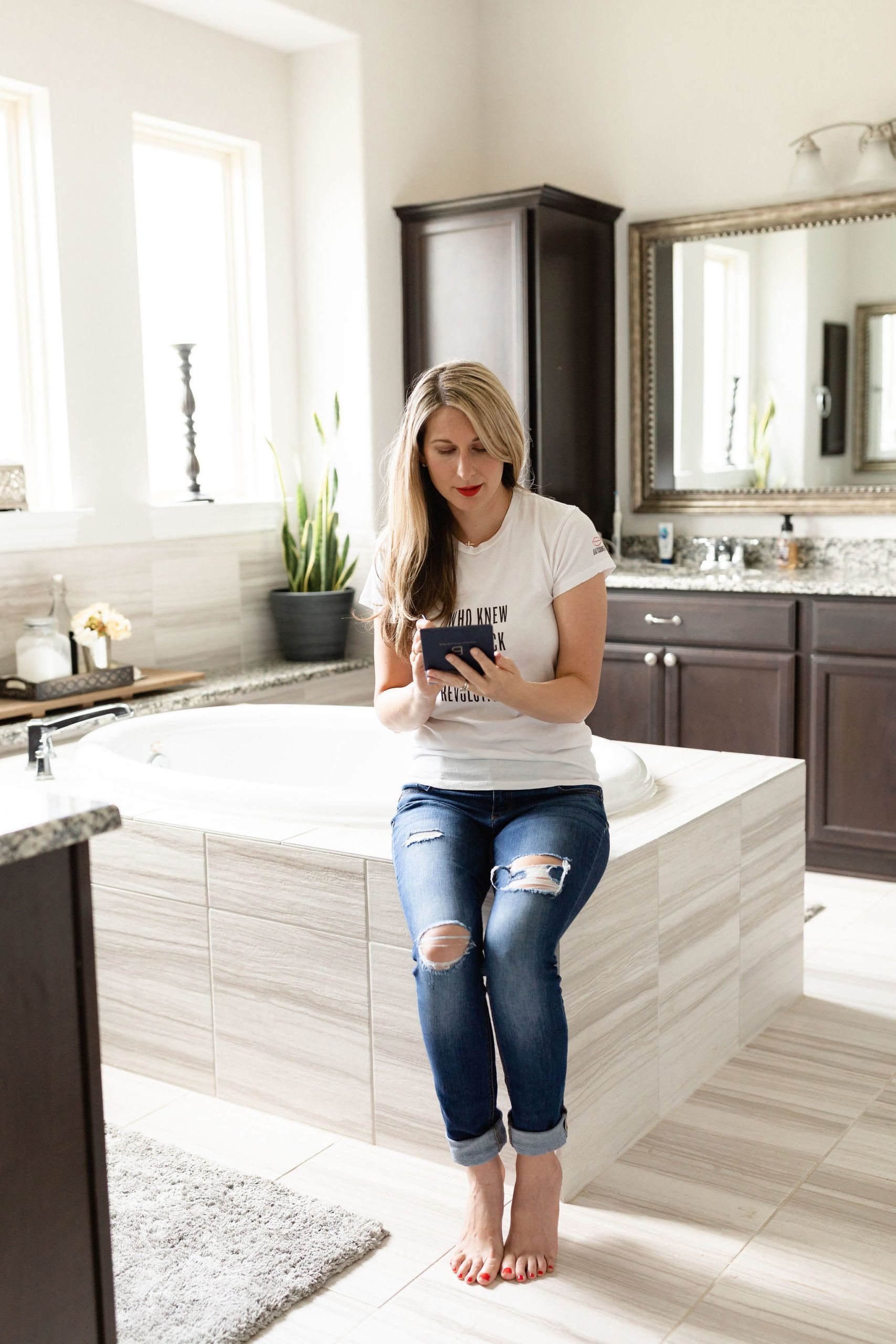 After a week or so of loving every single product I tried and falling more in love with Beautycounter's mission of getting safer products into the hands of everyone (translation- CHANGE LAWS so you, your mom, your sister and your daughter can walk in a Walgreens and purchase products right off the shelf that are actually safe!), I decided I couldn't keep this a secret. So I began my reaching out to my people (your buy ice from you if you were in Alaska people), shared a little on social media and eventually transitioned to shouting the safer skincare and better beauty message from the mountaintops because I only wish someone would have told me that what we put on our bodies matters.
Is Beautycounter one of "those" companies?
When going back and forth between keeping my consultant status on the down-low vs. really putting myself out there because I 100% believe in this company, I realized that this direct-sales business model was quite different than what I thought an MLM was. And nothing about it felt icky. I'm happy to say at 15 months into this business, I've never had an "icky" moment. So much of this business is how YOU personally decide to run your business. Additionally, Beautycounter operates first and foremost as a B corporation, focusing equally on people, profit and planet (more on B corps here) and the community/company vibe is one of "let's do the right thing", not "let's rip people off".
My favorite part of being a Beautycounter consultant
As a Beautycounter consultant, I have the privilege of being an educator first and help empower women and mamas to make informed decisions for themselves and their families. I get to do well while doing good. And I get to do this with a team of incredibly compassionate women who all do this for different reasons. These ladies have become like family and they're the community I never even knew I was missing and needed in my life. I get to do life with these women and although we all show up to our businesses differently- some working a few hours a week, others leaving their full-time jobs just to do Beautycounter, we cherish our time together knowing we are working together for the greater good of everyone in this country and anyone who uses personal care products (which is all of us).
In one short year with Beautycounter I had the blessing of attending 3 trips, including two incentive trips. I've never known a more supportive group of women than the ones you see here!
Advice from a Beautycounter consultant
Take the job. You would be hard pressed to find another opportunity that allows you to build a business on your terms where you get to help others all while simultaneously experiencing financial reward. Our founder Gregg (more on her story here) intentionally created and carefully developed a business model that would allow women to build financially rewarding businesses for themselves and their families all while being a part of an incredible community. I will forever be thankful I said yes, even though I didn't actually know what I was sayin yes to.