---
I'm excited to partner with Monterey Mushrooms, the largest fresh mushroom grower in North America, for this post. As always, all opinions are my own, and I only partner with brands and products I genuinely love using in my own kitchen.
---
Fire up the grills or bust out the cast-iron because it's officially "don't-heat-your-kitchen-with-the-oven" season! Whether it's a weeknight meal with the family or you're hosting a backyard bash for a crowd, a build your own blended burger bar is the sure-fire (no pun intended) way to appease picky eaters and get in some honest to goodness good-for-you ingredients! Lots of colorful toppings and a variety of ways to serve your burgers up means everyone is a happy camper.
First things first, let's chat about why blended burgers should be the foundation of your burger bar! If you've been around KISS in the Kitchen for long, you've likely seen many of my Blended (finely chopped mushrooms + ground protein of choice) recipes! Adding finely diced mushrooms to recipes boosts the nutrition, flavor and moisture, all while making your recipe stretch further. There's literally not a single other ingredient (IMO) that can accomplish that stellar combination! Plus it's super easy for anyone to try – even the kiddos or husband can help out! Keep reading for two simple ways to nail blended burgers!
Option 1: Simply use a food processor or sharp knife to finely dice 8oz of your favorite mushrooms (I like to use baby bellas!) and mix into 1 pound of lean ground beef. I've found it takes just 10-15 seconds of pulsing with the food processor. Any longer and the mushrooms are too small! 
Option 2: Grab an 8oz package of Monterey Mushroom's Let's Blend finely diced and pre-seasoned mushrooms (pictured below) and mix in with 1 pound lean ground beef. This is a fail proof way to create blended burgers! You can also make Let's Blend at home!
KISS Tip: After you've formed your patties, use your thumb to create an indention into the center of the burger patty. It should be a deep thumb-shaped well, but not a hole all the way to the other side. This creates a space for the juices to flow during cooking and helps the burger cook evenly and retain nice level shape!
The topping options are endless, but below are a few of my personal favorite combos! I also love to include a variety of ways to serve your burger. A bed of greens, butter lettuce leaves, slider buns and gluten-free buns are all diverse and fun ways to "wrap" your burger!
For the double mushroom lovers in your life, a blended burger topped with sautéed baby bella mushrooms is an incredible option. These Maple Balsamic Mushrooms are a favorite side dish of mine but could also easily be incorporated as a blended burger bar topping!
KISS Burger Combos:
Blended Burger on a bed of greens topped with guacamole and mango pico de gallo
Blended Burger on a gluten-free bun topped with roasted red bell peppers, feta cheese and a sweet balsamic drizzle
Blended Burger in a butter lettuce wrap topped with freshly sliced tomatoes and sautéed baby bellas
Let me know in the comments what your favorite burger combination is!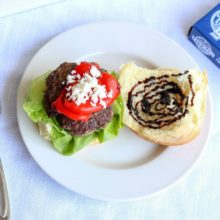 Print Recipe
KISS Blended Burgers
Ingredients
1

lb.

lean ground beef

(93/7)

8

oz.

Monterey Mushrooms Baby Bella Mushrooms, finely diced or pulsed in food processor

(1/2 pound)

2

Tbsp

avocado oil, divided

1/2

tsp

salt

1/4

tsp

black pepper
Instructions
Wash and dry mushrooms. Finely dice mushrooms or gently pulse in a food processor (takes around 10-15 seconds, don't overpulse).

Add 1 Tbsp oil to a medium skillet set to medium-high heat. Add mushrooms, cooking 5-7 minutes, or until golden brown.

Remove from heat and let cool for 5 minutes. Transfer cooled mushrooms to medium bowl.

Add ground beef, salt and pepper and mix with hands until combined. Divide into 4 balls and shape into patties.

Using your thumb, make a deep indention (not a complete hole) into center of patty to help burger cook more evenly and the juices will pool to the middle.

Add 1 Tbsp avocado oil to skillet and cook patties on medium-high heat for about 5 minutes each side or until internal temperature reaches at least 160°.*

Choose your bun, slider, lettuce wrap or salad and enjoy with your favorite toppings! *
Notes
*If grilling your burger, follow instructions 1-5, then heat a gas grill on high or if using charcoal, wait until the coals are ashed over and bright orange. Cook blended beef patties for about 4 minutes each side or until 160°. *Burger Bar Topping Ideas: sautéed baby bella mushrooms, avocado, guacamole, tomato, pico de gallo, cucumber, mango, bacon, grilled pineapple, grilled peaches, grilled mushrooms, grilled onions, basil, arugula, kale, spinach, bleu cheese, goat cheese, feta cheese, roasted red peppers, hard-boiled egg, fried egg, sun-dried tomatoes, dill pickles, bread and butter pickles, roasted corn, refried beans, jalapeños, chili, coleslaw, BBQ sauce, teriyaki sauce, hummus, salsa