---
​By posting this recipe I am entering a recipe contest sponsored by the Wild Blueberry Association of North America and I am eligible to win prizes associated with the contest. I was not compensated for my time.
---
February has been a busy month (yes.. I know we're only in the first week), so I've been relying more on smoothies for breakfast.. and other meals. Sometimes the name of the game is just "Grab and Go". Lucky for me, Wild Blueberries is hosting a really fun smoothie contest so I'm more than happy to contribute a few entries. You might have also seen my Wild Blueberry Spiced Chai Smoothie, but I went a different direction this time- to the tropics (probably because I'm dying for a trip to the beach!).
Funny side note- I googled synonyms for "tropical" and well let's just say this smoothie could have some really funny names.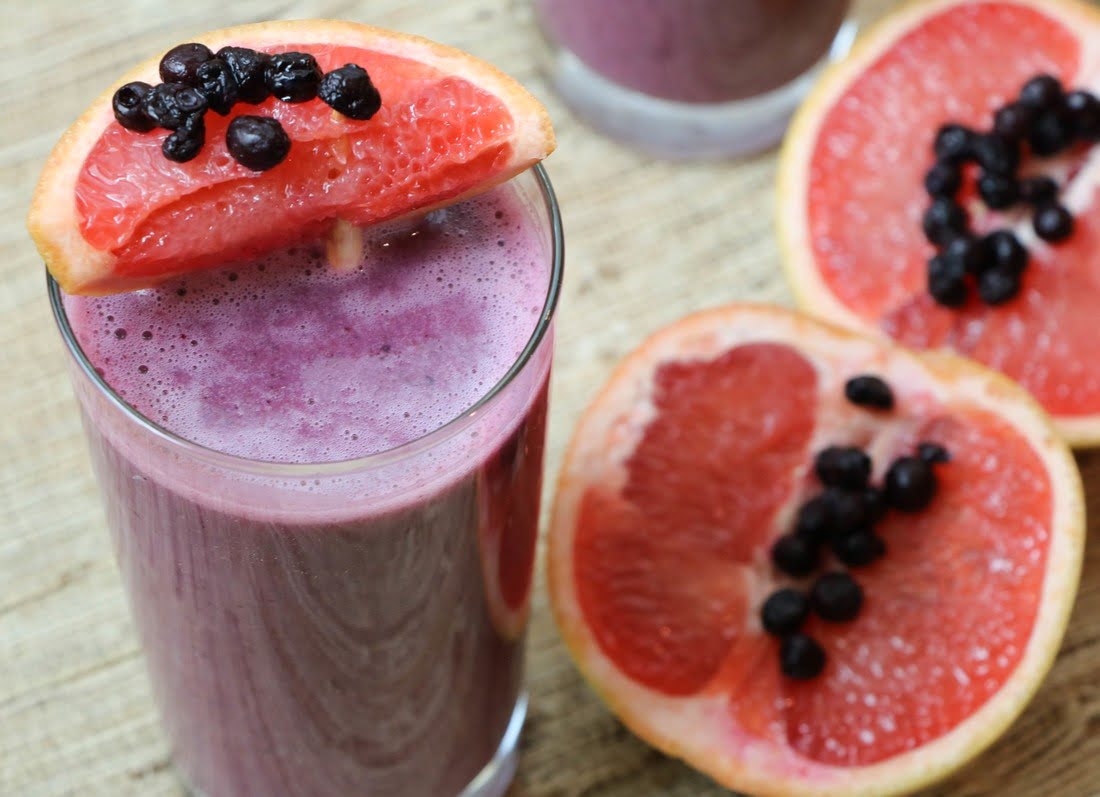 Although Wild Blueberries aren't quite as tart as grapefruit, their flavor is an extraordinary mixture of tart and sweet. They actually have a more intense flavor than regular blueberries. Wild Blueberry plants grow wild and are genetically-diverse with thousands of interlocking plants spreading naturally across fields called barrens. It's this diversity that gives Wild Blueberries their complex and delicious flavor!
That gorgeous ruby color screams "put me with Wild Blueberries"… or at least that's what I heard. This smoothie also has some mango and a Medjool date in there because as fantastic as Wild Blueberries and grapefruit are; they need some different naturally sweet flavors to balance out their wild tartness! Did you know Wild Blueberries are called "Wild" because they are? Wild Blueberries are not planted and occur naturally in barrens and fields in Maine and Eastern Canada that have been here for 10,000 years!
KISS Tip: Amp up the protein in this smoothie by adding a half cup of yogurt, choosing soy or plant based milk with added protein or add a scoop of your favorite protein powder!
Print Recipe
Wild Blueberry Tropical Citrus Smoothie (Vegan)
Equipment
Vitamix or high-speed blender
Ingredients
1

cup

Wild Blueberries, frozen

3/4

cup

mango, fresh or frozen

1/2

cup

(about half a medium) grapefruit, peeled and pit removed

1

cup

unsweetened almond milk

(or plant-based milk of choice)

1

Medjool date, pitted

1

scoop

of your favorite protein powder, if desired
Instructions
Place all ingredients in blender or Vitamix and blend until smooth. Enjoy!