---
"I received free samples of California walnuts mentioned in this post. By posting this recipe I am entering a recipe contest sponsored by the California Walnut Commission and am eligible to win prizes associated with the contest. I was not compensated for my time."
---
Blueberry Walnut Chickpea Salad- if you think that name's a mouthful, you should try the salad. Talk about a mouthful of flavor, texture AND nutrition. This recipe has everything you could want in a salad and then some. And in all honesty, I even surprised myself a little bit with this one. I'm not a big fan of recipes that don't include animal protein- I'm just a gal that loves her meat, BUT this hearty salad does not disappoint.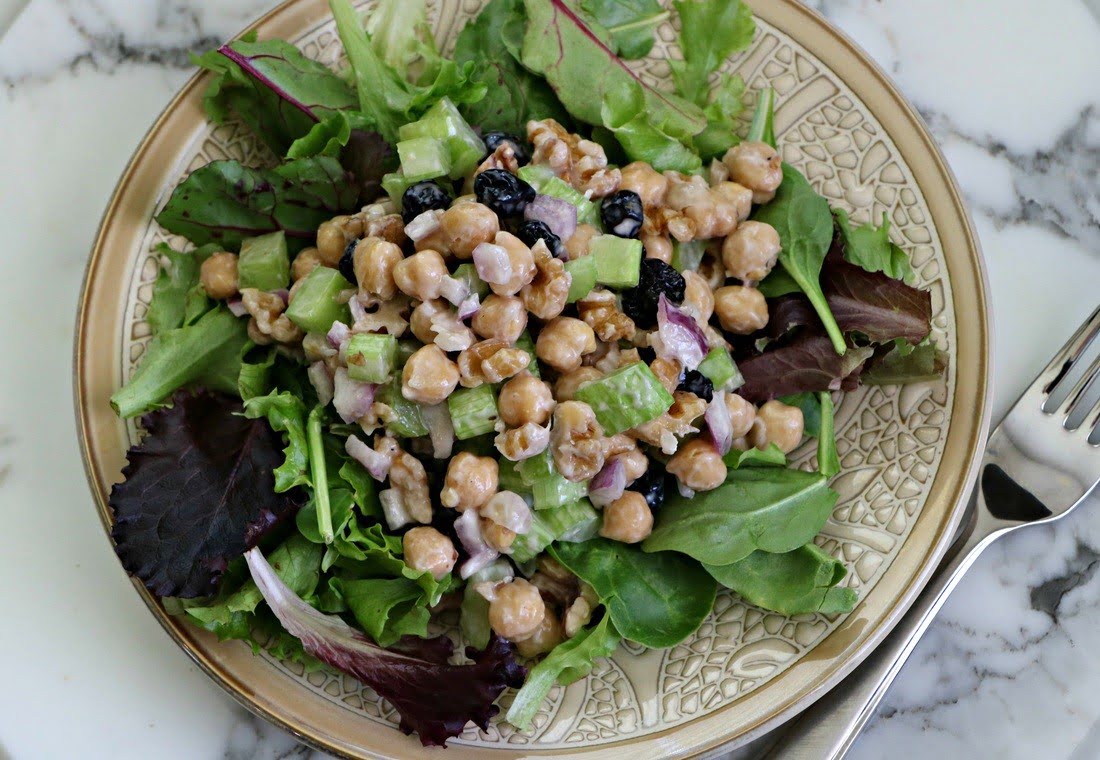 The phrase "Sometimes you feel like a nut" is me in a nutshell (too cheesy of a food pun?). I love nuts. And especially walnuts. Not only do they have hands down the best flavor ever when roasted, but they provide important components to a healthy diet. An ounce of walnuts has 2.5 grams of the essential plant-based omega-3 alpha-linolenic acid (ALA) and four grams of protein and 2 grams of fiber to keep you full!
Plus, it's super simple to add them into meals- from salads, to oatmeal, to yogurt parfaits, to adding ground walnuts to breadcrumbs when making a crusted chicken or fish dish- I mean, who wouldn't want to add delicious and nutritious walnuts to meals you're already enjoying?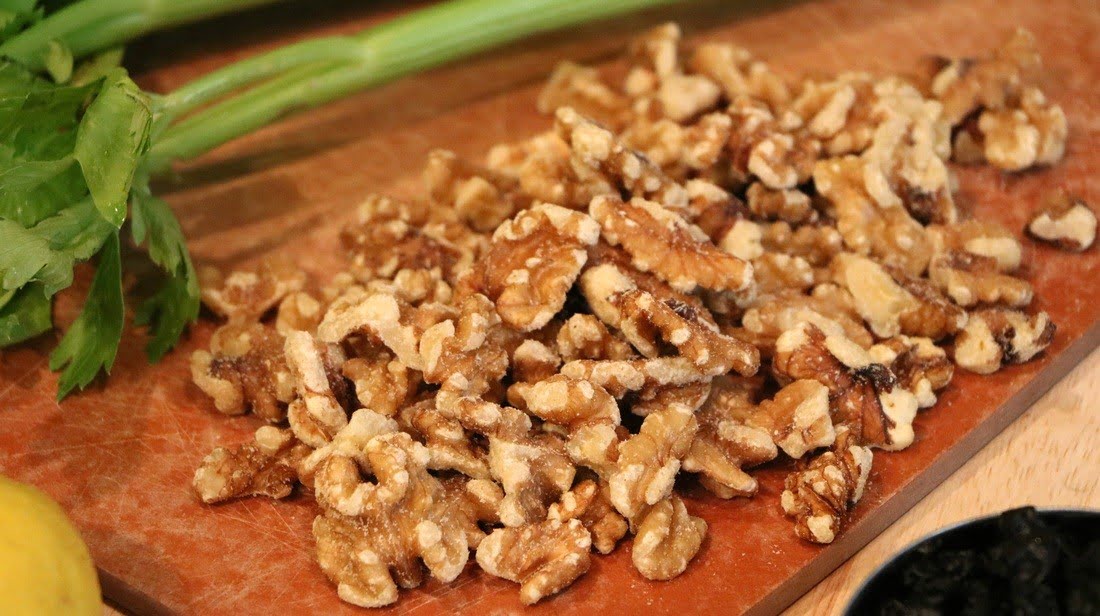 Ever notice how walnuts look like a brain? Yep- those omega 3 fats are super healthy for your noggin. 
KISS Tip #1: For this salad (or any recipe), roast walnuts for the most divine flavor ever. Simply heat your oven to 350 degrees, layer walnuts evenly on a baking sheet and roast for 5-10 minutes, tossing occasionally, until they smell heavenly and are slightly darker. 
Walnuts + chickpeas + dried blueberries + celery + red onion + a light lemony dressing is pretty much the tastiest and healthiest party. in. your. mouth.
There's some great natural moisture in this salad, but a simple mix of vegan mayo + lemon juice + a touch of maple syrup creates a light lemony dressing with just a hint of sweetness. AKA, perfection.
This crunchy, savory and slightly sweet salad is perfect on a bed of spring mix or your greens of choice.
KISS Tip #2: If craving a hearty sandwich, try this salad between two hearty slices of whole grain bread!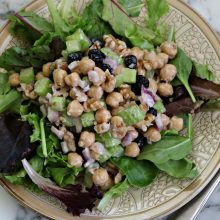 Print Recipe
Blueberry Walnut Chickpea Salad
Ingredients
1

15 oz. can

chickpeas, rinsed and drained

1

cup

walnuts, chopped (roasted, if desired)

1/2

cup

dried blueberries

1/3

cup

red onion, chopped

3/4

cup

celery, chopped into 1/4 inch pieces

1

5 oz. package

spring mix, spinach or your green of choice
For Dressing
1/4

cup

vegan mayo

1

Tbsp

maple syrup

1 1/2

tsp

lemon juice
Instructions
Chop walnuts, onion and celery then mix with chickpeas and blueberries in a large bowl.

In small bowl, mix dressing ingredients with whisk.

Add dressing to salad and mix well. Divide salad into four servings and serve on top a generous handful of greens. Enjoy and think about all the ways you can add walnuts into your favorite meals ;).